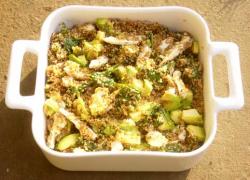 Quinoa is an ancient grain from the Andes and was one of the staple foods of the Incas. It is high in protein and easy to prepare. If you haven't used it before, do try it in this light and healthy salad recipe – an ideal way to use up any leftover Thanksgiving turkey meat.
200g quinoa
4 tsps ground roasted coriander and cumin*
Turkey or chicken stock
200g young spinach leaves
250g left over turkey (ideally poached)
Avocado cut into small chunks
1 tsp lemon juice
2 tablespoons rapeseed oil
Rinse the quinoa well and pat dry. Dry roast the quinoa and a tsp of coriander and cumin for 3-4 minutes until the quinoa browns.
Put the quinoa in a pan with enough chicken or turkey stock to cover. Be careful, the quinoa retains heat from dry roasting. Cook for 10 minutes. Drain well and put it in a bowl.
Add the spinach leaves to the hot quinoa and stir gently (to wilt the leaves). Set aside until cool.
Cut the turkey into thin bite sized pieces. Add the turkey, remaining 2 teaspoons of roasted spices, avocado, lemon juice and oil to the quinoa and spinach and gently toss the ingredients together.
*Dry roast cumin and coriander seeds in a frying pan until golden and then grind in a pestle and mortar.
©Stirrinstuff – AKA Fi Bird, author and food campaigner at www.stirrinstuff.org