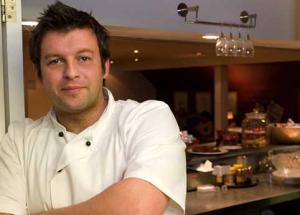 I have been thinking a lot about comfort food recently. Put it down to the chill in the August air, the confluence of Mars and Uranus (pffft) or just generally being a grown up in this London of ours. Put it down to what you will, but I have been craving comfort. Food as duvet. Food as support, nourishment and gentle murmuring contentedness.
What do you crave when reality bites? When your heart lies smashed on the floor, when your boss is your boss no more? When you are away from home, far from love, what food thoughts drive you on. What do you ask for from Mum when you scuttle home, desperate for apron strings and peace?
When my thoughts turn to comfort food they are mainly savoury. I crave food into which love has been heaped. I want slow cooked and hearty. Warming and rich with deep savoury notes and melting meat. Some fluffy mash to soak up the sauce and that's me. Don't want green stuff. Not now. I want ham hocks, falling from the bone- all pink and tender and be-hugged by nursery school parsley sauce. Lamb shanks and oxtail, cooked in wine and stock until their gelatinous properties provide an almost indecently textured and flavoured sauce. Sucking the flesh from an oxtail can be improved only if from someone else's fingers.
And I want to be wearing thick socks and a jumper. And be near (at least) a blanket. The rain should threaten the windows and I insist on dining with Nina Simone. Ideally I will have just been dumped (ideal but not strictly necessary)- for the full comfort food experience. And I won't have to chew much. Meaty, carby goodness shovelled in like a baggage carousel. This is spoon food. Comfort food doesn't do knives.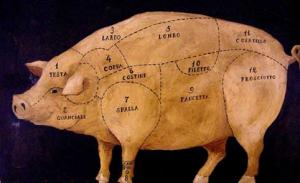 After my hock/shank/tail fest, I will slump for a bit. Turn off Nina and find Rick Stein, QI, Friends or Miss Marple repeats. And then the sugar cravings start. If I knew how to make pink custard then that is what I would have. Sadly the recipe died out with the last of the eighties dinner ladies in 92. So no pink custard. But what? Rice pudding with extra skin? Jam roly-poly with its suet-laden dough, leaden on your tongue. Sticky toffee pudding? I think it must be sweet, it must be dense and spongey and it must come with custard. Hot pudding, cold custard. That's what I like.
And that is my comfort feast. Nothing can hurt you if you have parsley sauce and custard in the same meal. Its proven fact. You can go for a run tomorrow if you believe all that endorphin nonsense but today is a day for slow cooking, fast eating, warmth and peace.
Ham hock and parsley sauce- Recipe for 2- but you will of course be alone.
One ham hock plus aromatics (bay, juniper etc), 50g butter, 50gflour, 200ml milk, 100g ham stock, splash of white wine, 2 fistfuls of chopped parsley.
Cover ham hock in cold water and add aromatics and maybe a chopped carrot and onion. Bring to a gentle simmer and keep there for at least an hour and a half- the meat should be almost falling from the bone.
In a pan, melt the butter, stir in the flour and cook until nutty. Gradually stir in the milk and ham stock. Fold in parsley. Season (go easy on the salt but plenty of pepper).
Eat with mash or just badly over cooked new potatoes dripping in butter.