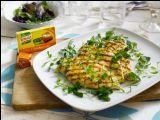 We all like the taste of curry – those aromatic spicy flavours are very palatable. A good easy way to enjoy the flavours without cooking a curry sauce is to make a flavouring paste from a Knorr Chicken Stock Cube mixed together with olive oil, curry powder and rosemary. Simply spread this paste over the chicken breast fillets, then griddle or barbecue them until cooked through. I like to serve with a handful of watercress.
Curried Chicken with Watercress
Serves:4
Preparation time 10 minutes, Cooking time 10-15 minutes
Ingredients:
1 Knorr Chicken Stock Cube
50ml + 2tsps olive oil
1-1½tsps curry powder
1-2tsps rosemary, finely chopped
4 skinless chicken breast fillets
Handful of watercress sprigs
Squeeze of lemon juice
Method:
1. Pre-heat one large, heavy griddle pan until very hot. The secret to successful griddling is to make the pan REALLY hot.
2. While the pan is pre-heating, make the seasoning paste.
3. Crumble the Knorr Chicken Stock Cube into a small bowl and mix with 2tsps of olive oil to make a paste. Add the curry powder and chopped rosemary and mix in well.
4. Spread half of the paste evenly over the top of each chicken breast fillet to season it. The great thing about using a paste is that you can spread it evenly and it stays in place.
5. Place the chicken breast fillets on the pre-heated griddle pan, paste side-down and cook for 4-5 minutes.
6. As they cook, carefully spread the remaining paste over the unseasoned side of each of the chicken breast fillets before turning over and cooking for 4-5 more minutes.
7. When the chicken is almost cooked through, turn off the direct heat below the griddle pan and allow the residual heat in the pan to carry on cooking the chicken breasts. If your griddle is not heavy enough to retain sufficient heat, simply reduce the heat and complete the cooking over a low heat. Pour a little olive oil over the chicken and cook through for around 1-2 minutes, turning the chicken over once or twice to ensure even cooking.
8. Check the chicken is cooked through, then transfer to a serving platter.
9. Toss the watercress with a little olive oil and arrange over the chicken breasts.
10. Garnish with coriander sprigs. Sprinkle with a squeeze of lemon juice and a little olive oil and serve at once.
To see more exclusive recipes from Marco Pierre White visit the Knorr website http://www.knorr.co.uk/