Ever wanted to cook with the salted cod you've seen hanging around in markets and delis? Well, here's your chance to try it out with a lovely recipe by Jose Pizarro, from his book, Seasonal Spanish Food which is now out in paperback

"This salt cod salad is called esqueixada in Catalan," Jose tells us, "and it literally means 'shredded'. I first tasted the dish in Pinotxo, a typical café-cum-bar in La Boquería, Barcelona's famous market. My friends from La Boquería come to Borough market (the two markets are twinned) every year for A Taste of Spain festival (organised by the Spanish Tourist Office in London). It is lovely to see my two countries joining together for the festival. There are some great marbled fish counters in La Boquería market, where the staff will prepare the salt cod for you.
You hardly soak the cod at all for this salad, so it is imperative that you use the best-quality fish you can find. The marjoram is my addition; in Catalunya you won't find herbs being used like this. You can eat the salad on its own, or as an accompaniment to grilled fish.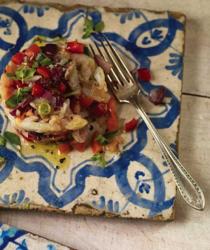 "
Serves 4
650g bacalao/salt cod
½ small red onion, diced
1 spring onion, chopped
300g flavoursome tomatoes, chopped and seeds removed
¼ green pepper, diced
¼ red pepper, diced
20 Aragón or Kalamata black olives, pitted and chopped
5 tablespoons extra virgin olive oil
freshly ground black pepper
2 marjoram sprigs, leaves stripped
Remove the skin and the bones from the salt cod. Break the flesh into pieces with your fingers, not a knife; you don't want straight edges, just roughly torn bits. Put the salt cod into cold water for 40 minutes, changing the water three or four times. You want the fish to be a bit salty still.
Squeeze the salt cod between your hands to remove all the water. Then, to be doubly sure, pat it dry between a couple of sheets of kitchen paper.
Mix all the ingredients together and the salad is ready. That's it – simplicity itself.
If you want to make the salad look even more attractive, use a 10cm cookie cutter and fill it with the salt cod. Carefully remove the cutter, sprinkle a few extra marjoram leaves over the top, and finish with a drizzle of olive oil.
Seasonal Spanish Food by Jose Pizarro and Vicky Bennison is published by Kyle Books and is available to buy online and good bookstores.