Now is the perfect time to serve up some fresh summery salads. Filippo Berio, olive oil specialists, have created an appetising and nutritious 'White Bean and Tuna Salad'.
This dish would be fabulous for a light summer lunch or perhaps a picnic in the park, alternatively simply increase the portion size for an evening meal.
White Bean and Tuna Salad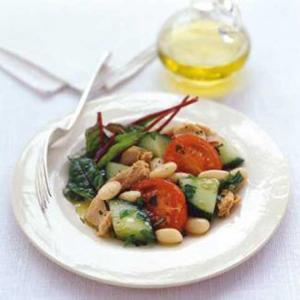 Serves 4, Preparation time: 15 minutes
For the salad:
100g/4oz baby spinach or beet leaves
397g/14oz can cannelloni beans, drained well
400g/14oz can tuna chunks, well drained
1/2 cucumber, diced
3 tomatoes, quartered
2 tbsp flat leaf parsley, chopped
For the dressing:
2 tbsp Filippo Berio Olive Oil
2 tbsp fresh lemon juice
Salt and freshly ground black pepper
Method:
Arrange the spinach or beet leaves along with the beans, tuna, cucumber, tomato and parsley on 4 serving plates.
Mix together the dressing ingredients and season to taste. Pour the dressing over the salad just before serving.