Here are three recipes from esteemed Spanish chef Jose Pizarro, created in partnership with Olives from Spain.
Exciting and sophisticated , Jose's recipes show the versatility of Spanish olives.
Roast Spiced cauliflower with Romesco and Olives
Serves 6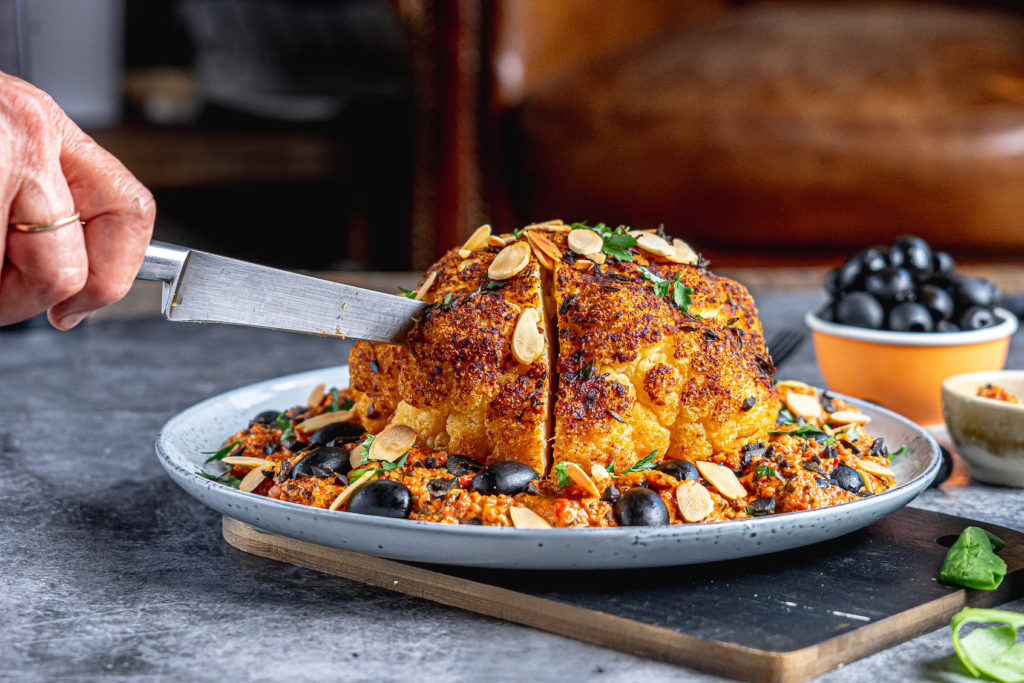 1 large cauliflower, outermost leaves removed
1tsp each smoked hot and smoked sweet pimenton
6 sprigs fresh thyme, leaves stripped
4tbsp olive oil
2tbsp medium dry sherry
Juice of a lemon
25g roasted flaked almonds
2tbsp chopped flat leaf parsley
For the black olive romesco
50g blanched almonds
50g blanched hazelnut
350g roasted red peppers from a jar
100g black hojiblanca olives, pitted
1 clove garlic, grated
1tbsp sherry vinegar
1 tsp smoked sweet pimenton
30g fresh breadcrumbs
5 tbsp extra virgin olive oils
Heat the oven to 200c. Fan 180c. Mix the pimentons with the thyme leaves and olive oil and rub all over the cauliflower. Sit into a small roasting tin and season well. Add a good splash of boiling water and roast for 40 minutes. Drizzle with the sherry and lemon juice and return to the oven for 10 minutes more.
Meanwhile, bash the almonds and hazelnuts in a pestle and mortar to rough crumbs. Whiz the peppers and olives together with the garlic, vinegar and pimenton. Season and stir in the roughly ground nuts and breadcrumbs. Add the oil.
Serve wedges of the cauliflower on a bed of romesco sauce and scatter with the flaked almonds and parsley.
Rioja Braised Beef with Olives and Chickpeas
Serves 6-8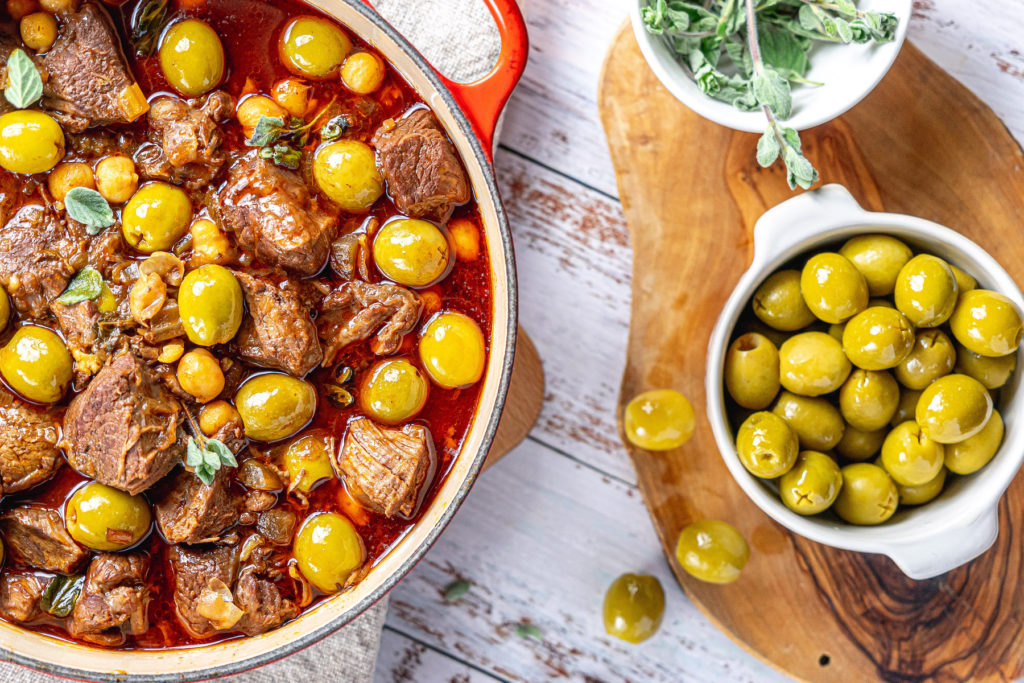 4tbsp olive oil
2kg shin of beef, ox cheek or other braising cut, cut into large pieces
1 large onion, finely sliced
2 sticks celery, finely diced
5 whole cloves garlic, peeled
4-5 fresh oregano stalks, leaves picked
1 tbsp tomato puree
400ml good rioja
300ml fresh beef stock
150g manzanilla olives
400g tin chickpeas, drained
Heat the oven to 150c fan 130c. Heat half of the oil in a large casserole. Season the meat and brown all over, in batches, adding a little more oil as you go. Set aside on a plate.
Add the onion and celery to the pan with any remaining oil and fry for 10 minutes until softened. Add the garlic, oregano and tomato purée and cook for a minute more.
Return the meat to the pan and splash in the rioja and stock. Season and bring to the boil the cover and transfer to the oven for 3 1⁄2 – 4 hours until the meat is really tender.
Add the olives and chickpeas and cook for a further 15 – 20 minutes then serve.
Olive and Salt Cod
Makes about 20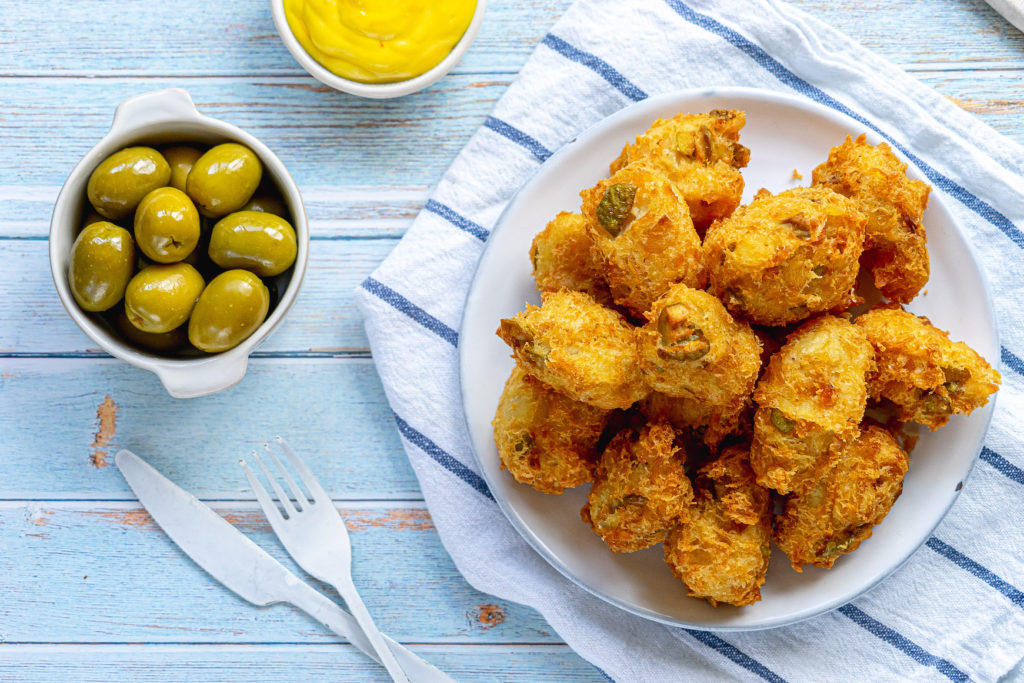 500g salt cod
450g floury potatoes, cut into chunks
3 tbsp extra virgin olive oil
1 garlic clove, grated25g
plain flour120g
pitted gordal olive, roughly chopped
1 large free-range egg
1ltr vegetable or mild olive oil to deep fry
For the alioli:
2 free range egg yolks
1 clove garlic, grated
2 tsp apple vinegar
Pinch saffron strands
1tbsp of hot water
250ml light olive oil
50ml extra virgin olive oil
Lemon juice to taste
Soak the salt cod for 36 hours in cold water, changing every so often. Drain and cut into 2cm chunks.
Put the potatoes in a pan of cold salted water, bring to the boil then simmer for 15 minutes until tender but not broken down. Drain well.
Meanwhile, cover the salt cod with cold water and bring to a rolling boil then drain, reserving 175ml of the cooking water. Remove the skin and bones and flake up the fish.
Heat the oil and garlic together over a low heat for a minute until aromatic then stir in the flour and cook for a minute more. Gradually add the cooking water, stirring till you have a smooth thick sauce. Fold in the olives and tip into a stand mixer with a paddle attachment. Add the cod and potatoes and beat until combined and most of the cod and potatoes have broken down but it's not yet smooth then beat in the egg. You can do this vigorously with a wooden spoon as well. Spoon into a bowl and cover and chill for at least three hours.
Make the alioli. Whisk the yolks with the vinegar and a good pinch of sea salt and ground white pepper. Steep the saffron in the water for a minute then add to the egg yolks with the garlic. Gradually whisk in the oils until you have. Thick glossy, vibrant yellow alioli. Add lemon juice to taste.
Heat the oil in a deep sided saucepan to 180c. Use two dessert spoons to scoop and shape spoonfuls of the buñuelos mixture together, making sure you press it together well, and drop them into the hot oil a few at a time and cook for 2-3 minutes until golden.
Drain on kitchen paper and repeat with the rest of mixture. Serve hot with the alioli to dunk them in.
Recipes created by Jose Pizarro in partnership with Olives from Spain, more information and recipes can be found at www.olivesfromspain.uk/ Instagram: @olivesfromspainuk