Trish Deseine's Saucisson
Clearly the ladies of the coffee get-togethers in Ireland never intended this name for their recipe but my French friends (my tasting panel) thought the result looked so much like a saucisson that the name stuck.
Makes about 20 slicesPreparation time: 15 minutes
Chilling time: 7 hours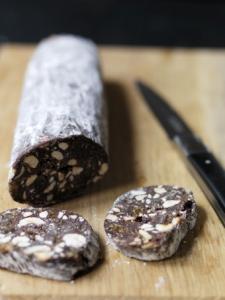 Ingredients:
100g best-quality dark chocolate
55g unsalted butter
275g hazelnuts, coarsely crushed
12 jaffa cakes, cut into quarters
165g golden raisins
1-3 teaspoons icing sugar
Method:
Melt the chocolate and butter in a microwave oven or in a bowl over hot water. Add all the remaining ingredients and stir well.
Chill briefly in the refrigerator. When the mixture has cooled sufficiently to not stick to the hands, roll it into a sausage shape. Wrap in cling film.
Chill for at least 6-7 hours.
Coat in the icing sugar and cut into slices.
Suggestion: Enjoy with a glass of sweet or fortified red wine such as Banyls or Maury. The original recipe includes 3 tablespoons of brandy and amaretto. If made with the alcohol, you can serve the Saucisson with coffee at the end of a meal.
Trish Deseine's new chocolate range 'Chocolate by Trish" launches in Selfridges Food Halls and online 11 October 2010.