Eat, drink and be merry with a Japanese twist, thanks to these great recipes from Yutaka the Japanese food products specialist.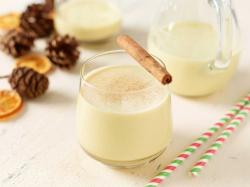 Egg Nog is the essence of Christmas captured in a single glass. The only problem is that the traditional recipe is a cupful of calories, whereas this vegan version is a guilt-free alternative. Serve hot or chilled and leave the rum out for the kids or non-imbibing family members. 
1 pkt (349g) Yutaka Japanese-style silken tofu

13 fl oz soy/ almond milk

1 tbs vanilla extract

1 oz sugar

2 tbs soft brown sugar

¼ tsp ground turmeric

Freshly grated nutmeg

¼ pt rum
Method
Combine all ingredients (apart from nutmeg and rum) in a food processor until well combined and then chill. When ready to drink add rum and mix thoroughly, pour into glasses and sprinkle nutmeg over each glass.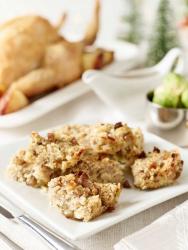 Panko Stuffing
Panko breadcrumbs are the choice of the top gourmet burger chefs as an alternative to traditional breadcrumbs as they give a superior taste. And the same is true for most recipes where breadcrumbs are called for. So, Japanese food company Yutaka has created a delicious recipe for Christmas stuffing that uses panko.
Panko, Sausage and Chestnut Stuffing
115g chopped cooked, peeled and ready to use whole chestnuts

125g sausage meat

1 medium onion, chopped

75g butter

Small bunch of sage finely chopped

65g Yutaka Panko breadcrumbs

Salt and freshly ground black pepper
Method
In a pan, melt the butter then slowly cook the chopped onion until soft and almost opaque.
Add the sage, and cook for a little longer. Add the breadcrumbs, mix together over a low heat until combined. The breadcrumbs should soak up all the butter.
Remove from the heat, and allow to cool. Mix in the sausage meat, and then the chopped chestnuts. Fold them in gently and mix well. Place the stuffing mix into a suitably sized buttered baking dish and bake in a preheated oven for 15 minutes or until slightly brown on top at 160 degrees centigrade.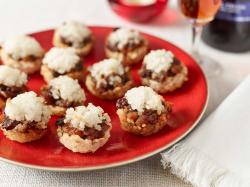 Festive Rice Bites
These Festive Rice Bites are a great alternative to mince pies for those who follow a gluten-free diet or are looking for a lighter version.
Festive Rice Bites
125g Yutaka Sushi rice

1½ tbs Yutaka Rice Vinegar

1 tbs sugar

½ tsp salt

Mincemeat

Oil or butter for greasing
Method
Oven temp 160C
Rinse 125g sushi rice in a bowl of water, drain and repeat at least 4 times then drain rice with a sieve. Put 165ml water and the washed rice into a saucepan. Bring to the boil and simmer for 10 minutes with the lid on. Turn off the heat and leave to stand for 25-30 mins without opening the lid.
Mix the rice vinegar, sugar and salt together and fold into the cooked sushi rice after it has cooled down.
Grease a small bun tin with either butter or oil and using wet hands take a ball of sushi rice and line each bun tin with the sushi (it may help if you use a teaspoon to flatten the rice). When all are lined place a teaspoon of mincemeat in each case and then place a small amount of rice flattened on the top. Then bake for approximately 10 -15 minutes or until the rice looks slightly crispy.
Leave to cool and take care when removing from the tin.