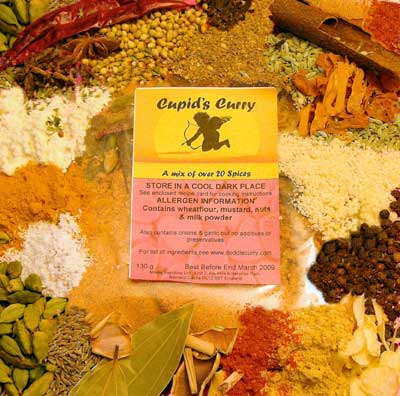 If you want to spice up your love life this Valentine's Day, there's a new way to get things stirring – 'Cupid's Curry", available online from DoddleCurry.Com, who offer spice kits to make cooking curry at home a doddle.
This easy to make 'Cupid's Curry" kit might just get your sex life off the back burner, as it boasts over 20 different natural herbs & spices, many of which have been renowned as aphrodisiacs since ancient times, such as cinnamon, cardamom and chillies.
But if that is not enough to get you simmering with passion, this tasty curry kit also contains nutmeg & mace, which are said to boost the male libido, and fenugreek leaves, claimed as a cure for impotence. Asafoetida is thought to give food a sensual taste, cloves are believed to stir up bodily lust and pepper also stimulates the sexual function. Ginger too is assumed to be seductive, while saffron is alleged to have the ability to cause erotic sensations.
These intoxicating spices have been included in recipes for centuries to improve sexual potency and were served to ancient gods such as Venus, Eros, Pan, Aphrodite and of course Cupid. There is even a section devoted to the use of spices as aphrodisiacs in the Kama Sutra.
But even if you take these ancient claims with a pinch of salt, the way to a man's heart is through his stomach and with the hand-made 'Cupid's Curry" tasting similar to a yummy Tikka Masala, it should prove very popular. This curry is a doddle & only takes 20 minutes to cook from scratch, which means you won't have to spend all Valentine's night slaving over a hot stove. So by the time your rice gets steamy…so can you.