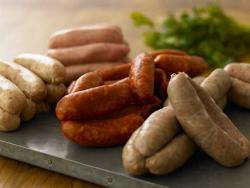 Great British Sausage Week has begun, so if you are on the hunt for the best sausages look no further! Below we have outlined some of the best sausage activities, dishes, books and stalls for you!  After all… who doesn't love a Great British banger?
On Saturday 8th November, Sausage Week is arriving at Brook Green Wild Food Market with a range of exciting activities which everyone, both young and old, can get involved in. Dedicated to giving customers both a foodie education and experience, Wild Food Market broadens your culinary knowledge with their weekly programme of regular masterclasses.
This weeks' session will focus on sausage making, showing you how easy it is to make your own sausages. The team will be taking sausage making one step further, demonstrating how vegetables, offal and even fruit can be used as fillings, with delicious results! Join the team as they scour the market for ingredients, from mushrooms and apples all the way through to bread, cheese and aubergine. 
Also at the market:
Picks Organic Farm will be serving a special edition'Brook Green Sausage', made especially for our market. Take a pack home or if you're feeling peckish, try one of their sizzling sausages in bun. Tempting, hot, delicious!
Street food stalwarts, Wild Dogs specialise in serving natural, free-range hot dogs, made entirely from British Produce. If the sound of their classic'Wild Dog', a wild breed pork sausage, slow cooked caramelised onions topped with a range of sauces takes your fancy, then we strongly suggest you give it a try!  
Free Range Country StylePork (voted'sausage heaven' by food critic Charles Campion)
Beef and Guinness
Wild Boar and Apple
Chicken and Apricot
Three Bird Sausage (pheasant, partridge and mallard with redcurrant, thyme and smoked garlic)
The Fat Pig Sausage (pedigree mangalitza pork with chorizo, chilli, morcilla and manchega).