For the first time The Leadenhall Building – better known as The Cheesegrater – is hosting a Christmas market for those feeling festive in the City of London.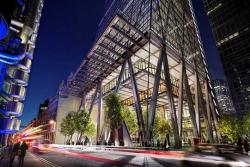 The brand new market is located in the stunning 28m high open atrium at the foot of The Cheesegrater – a London landmark.
Commencing the Christmas countdown, the market will run for four weeks to the 22nd of December and is open Monday to Friday, 10.00AM-07.00PM. 
The market features seventeen German-style wooden chalets, decorated with twinkling fairy lights and sprigs of holly to brighten up the Square Mile. 
Visitors can feast their eyes and their tastebuds on foods from traders from Punjabi street food to French macaroons, homemade burgers and German chocolate kisses.
Guests can tuck into unique dishes whilst they browse a selection of handmade goods and crafts, with Indian shawls and Turkish ceramics on offer alongside the traditional Christmas jumper. 
Guests will also be able to toast the festive season in a pop-up champagne and prosecco bar.Choirs and carols will entertain the crowds throughout the month, and the celebrations will be topped off by special guest performances from singer-songwriter Tom Korni and jazz singer Becky Bennett. 
Just like Father Christmas himself, this is a unique opportunity to travel around the world this Christmas.For further updates on The Cheesegrater Christmas market, you can follow us on Twitter and Instagram, @CheesegraterLdn and use the hashtag #CheesegraterXMAS.