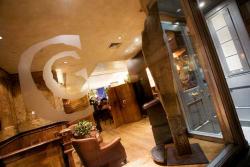 Club Gascon, renowned for its innovative South West France cuisine, has introduced a new Chef's Special of two lunch courses for £22. The menu has been designed to showcase the Club's cuisine and offer an alternative for busy workers who have less than an hour to eat. It is available until 28th April 2011.
Pascal Aussignac and Andrew Du Bourg, Michelin-starred Executive Chef and Head Chef respectively, have created a selection of three starters and three mains to choose from, featuring recipes using carefully selected ingredients. The Chef Special's menu highlights dishes such as mackerel tartare with cauliflower couscous and citrus vinaigrette, and confit guinea-fowl, artichoke & lime sauce.
A vegetarian option is available for each course.
Guillaume Van Der Haegen, Restaurant Manager of Club Gascon, comments 'This is an excellent value set lunch, still in line with the a la carte menu and showcasing what the restaurant has on offer Club Gascon has always been the ideal location for business lunches and with this new menu we also offer our customers a very attractive deal".
This exclusive offer is available for lunch every weekday until the 28th April 2011 (according to availability).