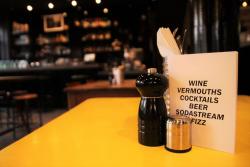 We're in Coin Laundry bar and restaurant eating Chicken Kievs with Black Forest Trifle and Soda Stream cocktails with vintage pinball machines, retro British comfort food in laid back surroundings.
Head Chef Nik Prescot looks to the 70s and 80s for inspiration to create dishes that offer a modern take on old-school British comfort food and for me, well those were my decades so I'm happy with that.
The menu is split into Morning, All Day and Bar snacks, allowing guests to pick and choose and share dishes with their table.
The morning menu offers dirty baps to fruit salads, whilst the all day menu features the likes of Prawn Cocktail, Barnsley Lamb Chops, Summer Pudding and Trifle using quality, seasonal and local produce from Neal's Yard cheese to beef from Wells Farm in Tunbridge Wells.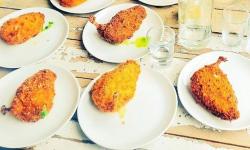 The signature dish is that 1970s favourite – the Chicken Kiev – made modern with hand foraged wild garlic and a secret bread-crumb blend. A "Kiev Counter" will count down the number of breaded cutlets left in the kitchen. Mine bursts with red hot butter, tasty but a tad dangerous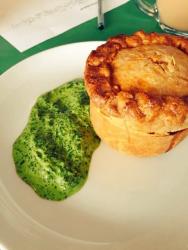 Elsewhere on the menu, Rabbit Balti Pie and Lamb Faggots are also coming out fast
The cocktail list features modern takes on retro classics such as the Grasshopper and the Snowball. A soda- stream will create a selection of bubbly cocktails and fizzy soft drinks.
Spread over two floors, the design of Coin Laundry's interior has revealed and restored some of the original pub features including decorative internal and exterior tiling. A vintage 80s pinball machine is downstairs, sadly it required a pound coin and I had no change. I am a whizz at Pinball having two machines from the 60s and 80s at home, ask me to show you how to do a French slap sometime.
Open all day, Coin Laundry's basement space has aselection of board games to while away the hours, and will host a regular programme of events from book clubs to club nights and pop-up shops.