Cortina @ Cantina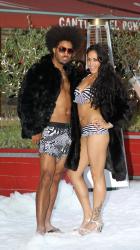 The Italian slopes have come to London. Following the current trend for the pop up, Cantina del Ponte has its own offering: 'Cortina @ Cantina', inspired by the town of Cortina d'Amprezzo in the Dolimitic Italian Alps.
The pop up had its launch party this week. The evening was one of models in swimwear and fur coats and trapper hats on the waiters. Which, coupled the smell of warm, spiced wine ('Vin Brulée'), was almost evocative enough to make one forget that London was experiencing a most unseasonable October heat wave.
Like bowls of pot pourri, roasted chestnuts provided a centre piece to each table. And just in case the theme isn't apparent enough, there is a ski chalet and lots of fake snow to complete the sense of the slopes on the rather less substantial gradient of the bank of the Thames.
Chef Claudio Gottardo has created a menu of Italian ski-side classics. The drinks are strong and warming, the food comforting and rich. Samples of the menu on the night included bowls of pasta, various focaccias, fegatini di Pollo con Pane (chicken liver pâté with toasted bread) and bubbling dishes of fonduta (the Italian take on fondue).
What with models in swimming costumes and fur costs, and a snowman also in attendance, the evening could be accused of leaning towards the gimmicky. However quality food and the beautiful Thameside location greatly overshadowed any sense of the superficial publicity stunt. Cortina at Cantina has an effective menu and shouldn't be taken too seriously. It is fun and fun that tastes good, and what can be wrong with that?
Cortina at Cantina will be open until Sunday 13th November.
The Cortina pop up is separate from the main cantina Restaurant, and the menu is exclusively served in the outside terrace. Diners should specify that they are wishing to sample the Cortina menu when booking.
Cantina Del Ponte, 36c Shad Thames, London, SE1, 020 7403 5403