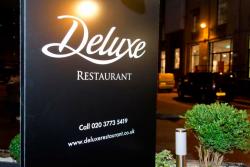 Deluxe, a limited-edition restaurant has opened in Ely's Yard in Spitalfields, E1 for lunch and evening meals.  Deluxe is a'non-restaurant' restaurant open for four weeks only until 14 December, and will offer a menu that diners can easily create in their own homes when Deluxe closes its doors.
Guests will be invited to explore a menu offering, we are told,  'a contemporary take on high quality British and European cuisine.  Menu highlights include smoked reindeer with pickled blackberries, tagliatelle with lobster and truffle oil and Panettone bread and butter pudding with white chocolate custard'.
The restaurant promises a generous experience, a welcoming atmosphere and a night of reveals.  In addition to the dishes available diners will receive take home recipe cards for the meals they have enjoyed, in order to recreate the Deluxe experience at home should they wish.
New dishes will appear on the menu every week, as voted by visitors across the restaurant's social media channels. 
As well as serving 40 covers, 5 days a week, Deluxe will also host regular Tuesday Wine Tastings showcasing a selection of the restaurant's wine menu. Throughout its opening Deluxe will be donating proceeds from its food and drink sales to CLIC Sargent, the UK's leading charity for children and young people with cancer. 
And, there will be a little surprise at the end. Our lips our sealed