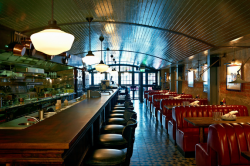 Soho House founder, Nick Jones first came across Au Cheval on a trip to the US last year, while researching locations for the new Soho House, Chicago. 
He told Foodepedia: 'I was really impressed with Au Cheval as a whole; from the restaurant's blend of French and American dishes to the music, design and the diner's atmosphere. I could see it working really well in West London and thought The Electric site would suit us perfectly."
At the Electric Diner, Sodikoff oversees a kitchen team who spent the past few months in Chicago with the staff at Au Cheval. Both Jones and Sodikoff have collaborated on the all-day French-American menu, which, inspired by Au Cheval, includes some of the restaurant's signature dishes, such as the award-winning cheeseburger (£11) and fried house-made bologna sandwich (£10).
Dishes are priced from £6 and include honey-fried chicken with chilli and sesame seeds (£17) and roasted bone marrow, beef cheek marmalade (£12).
True to Au Cheval's name, meaning in culinary terms, 'with an egg atop' the menu features a dedicated eggs section, including the already lauded, crispy potato hash with duck heart gravy (£12). Desserts comprise an updaed take on the classic mille-feuille (£8), toffee date cake (£6) as well as a pie of the day for £6.
The all-day Diner opens from 8am for breakfast, and guests are most welcome to drop in for a late night dinner until 1am, weekends. As at Au Cheval, there is a mighty focus on beers and ales, with no fewer than 19 varieties available, including Sierra Nevada IPA (£5) and Belhaven Stout (£5) on draught alongside the wine and spirits offer.
A wide range of cocktails includes House favourites alongside new creations, such as the Hemingway Daiquiri (£8) and Horse's Neck – Sazerac rye, diner ginger syrup, lemon, bitters and soda (£8).
The interior of the 75-cover restaurant is clearly inspired by the traditional American diner, with booth and bar dining and a specially chosen play-list.
This is Sodikoff's first venture outside of Chicago, where he already owns six successful restaurants and bars, as well as – testament to lengthy queues – a popular doughnut shop. At just 33, he is considered one of Chicago's primary culinary trend setters, having previously worked with luminary, Thomas Keller at The French Laundry, California, sister restaurant, Per Se in New York and Alain Ducasse at his New York and Paris restaurants. His restaurants are renowned for their accessibly informal diner-style dishes in the spirit of the classic American neighbourhood diner, albeit with French influences.
Au Cheval launched in March 2012 to critical acclaim, with Bon Appetit magazine pronouncing the burger as 'the best in the US' – no mean feat in the over-crowded market for bapped goodies.
Speaking on the new launch, Sodikoff said: 'I cannot think of a more inspiring restaurateur to collaborate with and learn from than Nick Jones whose appreciation of the arts, focus on casual luxury, passion for food and creative spirit is wholly in line with my own. I think Notting Hill is a great location for my first site outside of the US; London is one of my favourite cities and the youthful vibe of the area fits really well with the Diner's ethos.'
>Both sites form part of the new Electric, an Anglicised version of that in Tornatore's classic film, Cinema Paradiso, consisting of the completely refurbished Electric House members club upstairs, the re-upholstered and overhauled Electric Cinema, Electric Donuts and the Diner, which proudly replaces the former Electric Brasserie…