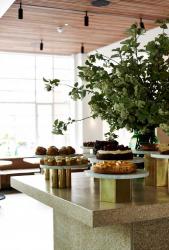 Granger & Co in Clerkenwell Green, Bill Granger's second London eatery, is now open from breakfast until late seven days a week,
As usual with Australians, it's a global menu with some focus on the Italian kitchen – Bill's latest cookbook is Bill's Italian Food after all. Cold-pressed and freshly squeezed juices are available for the health-conscious throughout the day, as well as salads such as Tea smoked salmon, green tea noodles, samphire and daikon and Coconut chicken, nashi pear, watercress and avocado are on the menu as well as Shrimp burger with jalapeno mayo or Crab, chorizo and house-made kim chee fried rice.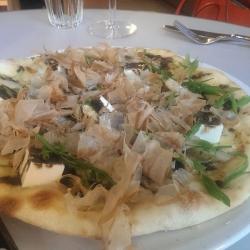 We tried one of the new crisp pizzas; potato, tofu, parmesan and'dancing' bonito, a homage apparently to Bill's time in Tokyo as an art student, and it was really excellent, the savoury tuna fronds waving cheerfully in the heat coming off the crisp base. The potato worked perfectly, which was a surprise, but we weren't so sure about the tofu which introduced a slippery, cold note.
Also very good was Korean fried chicken, iceberg lettuce, spring onion and chilli sesame,; a dish stuffed full of fresh sharp and hot flavours,  and a lively sticky chilli belly pork, spring onion salad.
The masala roast bream, cumin tomatoes, watercress and apple salad was a good spicy choice, especially the potatoes, but the fish was slightly dry and the apple slices didn't work all that well.
Clerkenwell continues to rise up and the architects and other grown up creatives who now both work and live in the area should keep this new and rather designer-stylish place busy.
Granger & Co Clerkenwell – 50 Sekforde Street London