The Fitzrovia restaurant is the first in the group to serve exclusively carbon-neutral beef, and showcases Gaucho's recent evolution in menus and design, inspired by modern Argentina and all its global influences.
In autumn 2021, Gaucho CEO Martin Williams launched the Sustainable Steak Movement to accelerate the transition towards more planet friendly beef production.
Participating restaurants must offer an exclusively carbon-neutral beef menu by 2025, and by 2030 members must run 'Net Zero' venues.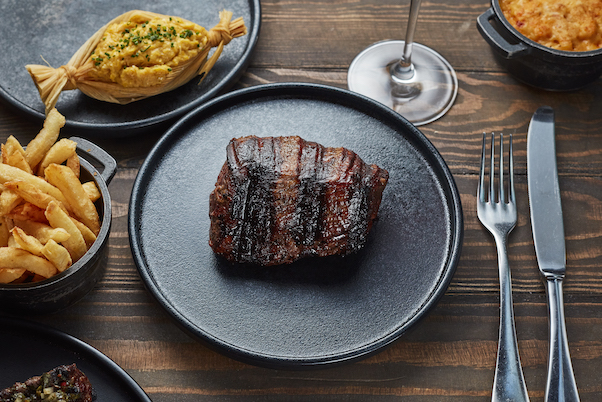 The a la carte menu, overseen by Culinary Director Mike Reid, is strongly influenced by modern Argentina. Starters include Shrimp Ceviche and Empanadas, followed by an selection of 100% carbon-neutral steaks from Black Angus cattle, bred in Argentina, grazing on 17 different types of grass from the Pampas provinces.
When ordering any steak, guests will also have the option to 'top with a tree' for £2, which will fund the planting of a sapling tree in south America, thereby contributing to Gaucho's work in carbon offsetting.
The restaurant offers a carbon-neutral wine offering, zero-food to landfill and green energy policy, as well as working with farming partners to go further than just offsetting carbon emissions from production but reduce its carbon footprint at source.
Gaucho also partners with charity Not For Sale – which creates long-term, sustainable, scalable solutions to break the cycle of modern day slavery – on their reforestation projects in the Amazon which in turn offsets carbon emissions. 
Along with its innovative sustainable offering, the Fitzrovia venue boasts forward-thinking features and a design aesthetic that mirrors modern Argentina. The 128-cover space offers casual dining in the upstairs bar, perfect for after-work drinks, as well as a 28-cover private dining room and events space. 
Alongside the steaks, further main courses include vegan Gnocchi with pumpkin and Swordfish Causita, whilst desserts feature Gaucho's take on the traditional Argentine Alfajores. 
Unique to the Charlotte Street Gaucho, the Beef Bar offers an intimate chef's table experience, showcasing an Argentine beef tasting menu (£50pp or £80pp with wine pairing).
The four-cover counter allows dishes to be presented to guests directly by the chef, with highlights such as Cuadril Carpaccio and Lomo Tiraditos, culminating in the Gaucho Grill Selection. 
The venue also welcomes the return of Gaucho Film Club; a dining and drinking experience where the menu mirrors the storyline, with guests eating and drinking along with the characters of cinematic greats. The new season starts with two Valentine's Day screenings of When Harry Met Sally, on Monday 14 February, at 6pm and 8:15pm.
Address: Gaucho, 60A Charlotte Street, London W1T 2NU
Contact and bookings: 020 7580 6252 | gauchorestaurants.com/restaurants/charlotte-street/ | @gauchogroup
Opening Times: Monday – Thursday: 12:00 pm – 11:00 pm | Friday – Saturday: 11:30 am – 11:00 pm