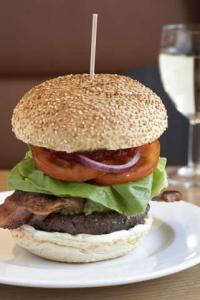 Heading out for grub? Got a pound spare? Why not bring along a friend and treat them to lunch at the Gourmet Burger Kitchen (GBK)?
Until the end of August, simply download a voucher from www.capitalfm.com/gbk to get a second meal from your nearest GBK restaurant for just £1 if you buy one burger or main course salad!
Gourmet Burger Kitchen (GBK), Help a London Child and 95.8 Capital FM have teamed up to re-launch their iconic fundraising campaign 'Quids In'. The campaign raises money for Help a London Child, which offers financial support to grass-root projects for London's less advantaged children.
Last year's 'Quids In' campaign raised over £80,000 which allowed Help a London Child to provide financial support to at least 40 grass roots projects working with disadvantaged children in the capital city. With the re-launch of the voucher this summer, gbk hopes to raise at least the same again so Help a London Child can reach out to even more young people giving them the opportunity to enjoy the childhood that everyone deserves.
If that's not exciting enough, when you download your voucher you'll be entered into the draw to win an amazing camper van dream trip for two to New Zealand with £1000 spending money, courtesy of Air New Zealand, Tourism New Zealand, Pacific Horizon and Steinlager Pure.