The Grind has just opened a new all-day restaurant and late night bar on Old Street, just a stone's throw away from where it all began at Shoreditch Grind five years ago. Chloe went along to find out more.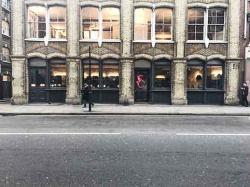 Situated in another relisted building, at 2-4 Old Street, Clerkenwell Grind gives off the usual Grind feel, looking inviting from the exterior – somewhere to escape these cold winter days and nights – but this new spot, the sixth in its collection of café-bars and restaurants, looks a little more sleek and chic.
The interior, spread across two floors, with pink velvet booths, sweeping marble bars and royal blue paneling exudes a feel of luxury. The dining room, where we perched for the evening, is on the ground floor next to the bar. Contemporary, with dark teals contrasting against the whites and golds of the seats and tables, it's a classy location for a meal out or cocktail or two with friends, a date, or even your parents.
The bar, is serving an all-new cocktail menu until late into the evenings, and also the early hours of the morning from Thursday to Saturday. Headed up by the Grind's renowned Espresso Martini, the new menu appears to feature something for everyone, from coffee cocktails and gin classics, to the Grind's take on an old fashioned and some zingy, sweet and fruity numbers.
Frrom what we tried my top picks of the cocktail menu include the Grind Espresso Martini, The Razzle Basil and the Tommy's.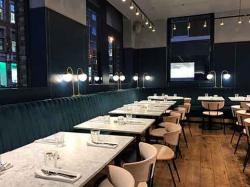 The Espresso martini isn't classed as'much loved' for nothing. The Grind's version of the cocktail, originally created by Dick Bradshaw, is rich and creamy and goes down a treat.
The Razzle Basil, a combination of vodka and lychee liqueur is exotic, fresh and fruity. It's a cocktail you could happily drink all evening.
But if a Margarita is more to your taste, The Tommy's will be right up your stree as it was ours. A mixture of Tequila reposado, lime, and agave syrup, it's citrus and tangy, yet slightly sweet and refreshing.
Downstairs we found is home to a sound system with guest DJ's, from a nearby Shoreditch recording studio, spinning records late into the night. With another bar downstairs, a marble green topped cocktail bar which takes centre stage, it's looks like a great spot to dance away the evening.
For those visiting in the daytime looking for a bite to eat, the kitchen, led by head chef Mauro, opens at 7.00am on weekdays (slightly later at the weekend) and says it will offer a creative twist on some of the Grind classics.
New breakfast dishes on the menu include bright beetroot-cured salmon with kimchee and the Mushroom breakfast croquettes, with the weekend welcoming Truffle hash topped with Poached duck egg, and French toasted banana bread.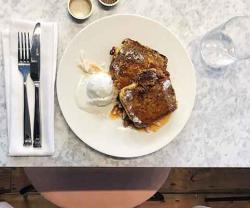 The lunchtime and dinner menus appear to also offer a delicious choice, with small plates like Isle of Mull scallops served with samphire, Aubergine and goats curd, and main courses of Miso-glazed lamb spare ribs and red snapper. There's also an international wine list to accompany the menus, with wines coming from Italy, Australia and New Zealand, to name a few.
Whether you're passing through the area in search of a spot to eat, deciding on a chic new spot for dinner or planning an evening of cocktails, I think Clerkenwell Grind is worth having on your radar.
Clerkenwell Grind
2-4 Old St, London EC1V 9AA
Mon – Wed: 7am – 11pm Thurs – Fri: 7am – 2am Sat: 8am – 2am Sun: 9am – 7pm