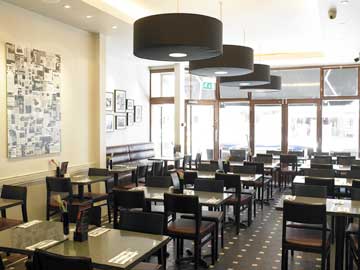 Harry Morgan, the most famous New York Style Deli Restaurant in London, will celebrate its new menu and refurbishment with an amazing 50% off discount offer*.
The offer runs at the St John's Wood High Street restaurant from Monday 20th to Sunday 26th July. Diners can enjoy the new interiors and expanded menu, then following their meal, watch as their bill is halved.
Established in 1948 by Harry Morgan, a local butcher, this once tiny takeaway deli is now the largest and most famous New York Style Deli Restaurant in London. With seating inside for 100 and a further 18 outside, it has become a North London legend.
New menu includes: Harry's House Salad (Tuna, baby gem lettuce, cherry tomatoes, baby artichokes, black olives, shallots & soft boiled egg with parmesan dressing), and a brand new range of Harry's Burgers including Harry's Swiss burger and Chicken burger. Regular customers will be pleased to know however that Harry Morgan's world famous Salt Beef is still a best seller and stays firmly on the menu. The interiors have been updated with new flooring, lighting and seating which has seen the customer capacity grow by 20.
Harry Morgan was voted 'The Best Chicken Soup in London' by the Sunday Times and also nominated two years running (2004 & 2005) in the Evening Standard Restaurant Awards for best value restaurant in London. As its reputation has grown, Harry Morgan has almost become as well known for its celebrity clientele as for its famous salt beef.
Harry Morgan celebrity fans include Jude Law, Rachel Stevens, Mark Ronson, George Michael, Kate Moss, Roman Abramovich, Emma Thompson, Liam Gallagher and Dustin Hoffman to name but a few.
*Offer valid at St John's Wood restaurant from 20th-26th July. Parties of up to eight people will receive 50% off the total bill.