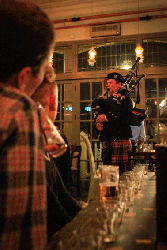 "We ha'e meat, and we can eat, and sa'e let the Lord be thankit." – Rabbie Burns
A little slice of Scotland will be arriving in the capital this January as Young's pubs Cutty Sark in Greenwich (23rd Jan), The Duke's Head in Putney (24th Jan) and The Spread Eagle in Camden (25th Jan) host highland flings that would make Rabbie Burns proud, complete with Scottish feasts, whisky tastings and traditional bagpipers.
CUTTY SARK – Friday 23rd January
Celebrate the pride of Scotland with poetry and haggis at the Cutty Sark in Greenwich from6pm. Delve into a sumptuous three-course Scottish feast (£40) made using premium produce; celeriac soup, scallops and black pudding; haggis, neeps and tatties with whisky-gravy; and a Tipsy Laired (Scottish shortbread whisky trifle with raspberries) to finish. Enjoy alongside some of the finest Young's ales and craft beers and be transported to Scotland with music from bagpipers.
Tickets: £40pp. Please call to book.
THE DUKE'S HEAD – Saturday 24th January
The Duke's Head in Putney will be given a Scottish makeover. Beginning at 7.30pm, enjoy a three-course Scottish feast (£32) including Arbroath smoked pâté, before the bagpiper welcomes in the Highland haggis with tatties and allotment root vegetables. Finish with the quintessentially Scottish deep-fried Mars bar alongside a personal Chivas tasting right at your table. Then continue the evening the Scottish way, with another tasting, this time of the famed Glenfiddich Whisky (£10) alongside recitals of the birthday boy's poetry.
Tickets: £32pp. Please call to book.
THE SPREAD EAGLE – Sunday 25th January
The Spread Eagle in Camden is opening its doors to celebrate the life of the national bard from6pm. Dinnae miss the three course Scottish feast (£25) including traditional smoked haddock soup Cullen Skink; followed by an 8oz 21-day aged Aberdeen Angus sirloin steak; or alternatively Burns Night favourite haggis; and finish with Keen's cheddar, oat cakes and chutney. Then, step into an Art of Blending masterclass with Chivas whisky where you can blend your own tipple before you finish the night with the classic Auld Lang Syne.
Tickets: £25pp including a free dram or £35 including the whisky tasting. To book, call or email the pub or book online: www.eventbrite.co.uk