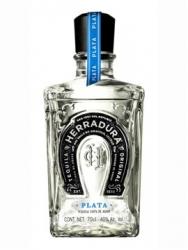 Ok so you've got people round and they're under 30, so no point in getting out the Warninks Avocaat ( ten years in the drinks cabinet and still going strong), the Bristol Cream or that can of Mackeson you got in for Uncle Ernie who's now been dead five years.
Tequila is a party starter for sure but forget the old tequila slammers cliché. Truth is that back then the tequila was so awful the only way to drink it was by getting it down before your taste buds had a chance to react.
The old Mexican mother's ruin is now a drink of flavour and palatability. We've already looked at Olmeca Altos tequila and now it's Herradura's turn to come under the bar spotlight.
A family-owned business since the 19th century, there are four tequilas in their family – Plata, Reposado, Anejo and Seleccion Suprema and we tried the Plata. This white tequila is the only white tequila stored in oak barrels for 40 days and this gives it a light colour, and a gentle smoky flavour as well as the oak notes, which caused one of our number to innocently cry out'I've got wood!' after his first sip. It goes down smoothly too.
Tequilas you can sip are a rare pleasure and this is definitely one of those. But of course you want to make this stuff last, it is after all around £30, so cocktails are the way to go. The Plata with its light citric notes mixes well in a classic margarita of course, but we loved the mix of Plata, lime juice, agave syrup and ice. The balance of the sweet and sour was excellent and the flavours of the 100% blue agave Plata just floated in the middle like a referee at a boxing match, only occasionally getting a smack in the face.
A Herradura is a horseshoe, the brand being named after the founder found a horseshoe in his agave fields. It seems to have brought him luck, even if he hangs it the wrong way up in his logo.  If you're lucky, maybe someone will bring you a bottle for Christmas.
You can buy Herradura Plata at the places below, among others, and find cocktail inspiration at www.makemeacocktail.com