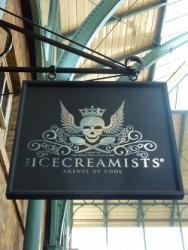 There can be few ways to spend a morning odder than being blindfolded and fed ice cream by a grown man. Yet this is how I found myself occupied recently. The occasion was a preview of the new winter menu of ice cream's new enfant terrible, the Icecreamists.
Best known for the media storm surrounding their breast milk ice cream, the Icecreamist's emphasis is on breaking away from traditional flavours. Whilst retaining the classics such as vanilla and chocolate, they feature more outlandish numbers such as Glastonberry, or Priscilla, Queen of the Desserts. There is even a chilli and ginger number for the more adventurous of you out there.
The approach is very much faux punk rock, something mirrored in the aesthetic, with the staff kitted out in the tartan kilts and a neon pink "God save the cream" sign on the wall. The ice cream itself is actually gelato, a lighter version of the ice cream commonly found in Britain.
On my visit I tried several new flavours, not all of which will make it on to the menu. As expected, some were better than others, with the particular highlights being the gingerbread and mulled wine. The gingerbread had a nice spiciness to it with the mulled wine tasting like Christmas, minus the fights and roast dinner. Others tasted included a less successful Ferrero Rocher and a chocolate and orange reminiscent of Jaffa Cakes.
The highlight was the demonstration by the Italian gelato maker who consults for the Icecreamists. He demonstrated the speciality of a restaurant just outside Bologna, arguably the Mecca of gelato. Or should that be the Vatican?
He proceeded to take the custard cream gelato they have, and gently fold in a drizzle of baslamic vinegar. The resulting concoction was light and delicate not at all what was expected. Without the theatre of having it made in front of you, you would be hard pressed to identify the ingredient that has given the gelato such character.
Fans of the shop will be interested to know that they are looking into the possibility of doing hot desserts. For now however, go check out the new menu which debuts this month. Don't worry though, you can still get vanilla and chocolate.
23/47 The Market Building South Plaza Covent Garden London WC23 8RF
15 Maiden Lane Covent Garden London WX2E 7NG