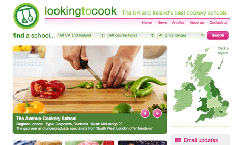 There's a new foodie website on the block called Looking to Cook (lookingtocook.co.uk). Launched in April 2011, the site offers independent reviews of the cookery schools and courses in the United Kingdom and Ireland.
The reviews are searchable by region, course type and cost but there's also a searchable interactive map. Currently there's 80 reviews available and the site will be updated weekly with new sections to be revealed.
Looking to Cook has been developed by Nick Wyke, who works as a freelance food writer/editor and web content developer at The Times.
'The nation's love for all things culinary continues to grow and people are keen to get hands-on experience and learn new techniques," says Nick. 'There are hundreds of exciting courses out there – whether you're looking to make artisan chocolate at a smart country hotel or find an express lunchtime lesson in Lebanese cuisine in the city, Looking to Cook is not only the quickest way to find what you're looking for, but it also has the broadest choice."
He adds: 'Our team of experts has been visiting cookery schools for many years, and knows the right ingredients for a great experience.'
Looking to Cook is at lookingtocook.co.uk