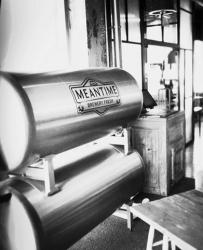 Greenwich-based craft brewers Meantime Brewing and London pub group Young's are to introduce "Brewery Fresh" – or "tank beer" – in a UK-first. The creation of "Brewery Fresh" will mean an initial three London-based Young's outlets will offer drinkers a beer unadulterated by pasteurisation, filtering or pressurisation.
Meantime's Brewery Fresh London Lager will be dispensed direct from specially engineered tanks, installed in the pubs themselves. The beer will be delivered by Meantime's tankers direct from the maturation tanks at the brewery, creating a unique way of serving beer with the results being immediately obvious: a well-rounded, smoother lager, with enhanced aromas and flavours.
Brewery Fresh will be rolled out in three London-based Young's pubs: The Plough in Clapham, The Grove in Balham and The Windmill, also in Clapham. The innovation will allow drinkers to enjoy the perfect beer un-pasteurised, un-filtered and unaffected by air, all of which can influence the taste of the product.
Although widely available in cities such as Prague, which has its "tankovna" or tank pubs, this is the first time dispense tanks of this sort have been used in the UK on a permanent basis, without being attached to a microbrewery.
Because the beer remains unpasteurised and unfiltered, it will continue to mature in tank and therefore improve even while it's in the outlet. The process also means the beer has no contact with the air until it hits the glass (air used in traditional dispense can adversely affect the taste and ultimately the quality of the beer).
The process should mean that a pint of Meantime Brewery Fresh will be like drinking a beer direct from the brewery itself, as fresh as the day it was made.
 "For a brewer, there is only one place to really drink beer: straight from the vats, in the brewery.   I believe that the improvements in the Brewery Fresh technology mean that we may have found the brewers' Holy Grail: Brewery Fresh beer served, unfiltered, naturally carbonated, unpasteurized and as fresh as it could be, direct from tanks at the local pub. Tasting as beer does when it's in the brewery." Alastair Hook, founder and Brewmaster at Meantime
Meantime Brewery Fresh will be rolled out this week with the Plough in Clapham Junction being the first to be fitted with the new system, followed by The Grove and The Windmill. The intention is that additional Young's outlets will be able to offer Meantime's Brewery Fresh beers in the future.