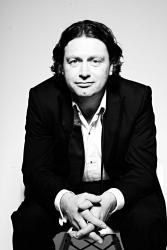 Bergerac will be sorry he left, Michelin starred chef Shaun Rankin has revealed the opening of his own restaurant'Ormer'. The much-anticipated restaurant and bar will be based in Jersey, home of fictional homicides, and take pride of place in the historical centre of the town.
Shaun Rankin, best known for his winning performance on BBC2's Great British Menu and for nine years at the helm of Michelin starred Bohemia, left his former post in January 2013 to dedicate attention to the build of Ormer.
The restaurant, due to open in May, will be over two floors with a 50 seat restaurant, bar and 20 seat terrace downstairs, and a private dining room, bar and cigar terrace on the first floor. The team have been working with London interior designers Martin Brudnizki. His work includes Soho Beach House Miami, Annabel's London, 34 and Jamie's Italian. 
The Ormer restaurant team is already taking shape with recruitment from inside and outside the Island. Shaun is also offering positions for two young local apprentices to join the fold, they will benefit from three years paid training under the celebrated chefs wing.
The restaurant name takes inspiration from a rare shellfish found in the waters of the Channel Islands. The Ormer is considered a great delicacy and Jersey is the farthest North it can be found; it can only be harvested by hand on special seasonal tides. The Ormer is synonymous with the essence of Jersey, which enjoys an abundance of extraordinary produce and has become a true gastronomic destination.
Shaun Rankin, Proprietor, Ormer Restaurant, says:
'This is such an exciting project for the whole SR team and something I have aspired to for a long time. I am honoured that Martin Brudnizki agreed to come on board and I can't wait to reveal Ormer to all the people who have supported me over the years. We already have bookings into 2014 and we haven't even released a menu yet, so I am extremely grateful for the encouragement we are receiving. The Jersey restaurant is a first step to all I wish to achieve under the SR brand, we are already looking at locations in London and further afield so there is much more to come!'