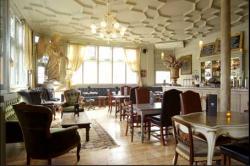 This January work off your Christmas weight gain at the newly introduced Paradise Boot Camp. Every Saturday morning throughout January, popular west London gastropub Paradise will host a series of personal training sessions with leading experts in heath and fitness.
Available to everyone and totally complimentary, patrons to the pub who are more accustomed to indulging in its menu of comfort food classics or to dancing in the upstairs music rooms with a cocktail in hand, will don a sweatband and head to nearby Queens Park for a fun and energetic group workout.
As well as saving your pennies by attending these free sessions, every attendee will be rewarded for their efforts with a £20 voucher to spend in the dining room at Paradise.
Meet at 11am at the bandstand in the beautiful surrounds Queens Park any Saturday morning (January 9, 16, 23, 30) for an energising power detox smoothie provided by the team at Paradise before getting started.
Contact Paradise on 020 8969 0098 or emailbookings@thecolumbogroup.com to sign up to Paradise Bootcamp.


Detox Cocktails available throughout January
A Queens Sage
Strawberries, fresh sage, hint of cracked black pepper, fresh lemon and soda.
¾ strawberries
4 leaves of sage
1-2 twists of cracked black pepper
25ml lemon
Dash of simple syrup
Glass= Highball
Ice= Cubed
Garnish = sage leaf & strawberry
Method = muddle the strawberries with dash of simple syrup and cracked pepper. Add 4 leaves of sage and lemon. Shake and strain over ice. Lengthen with soda.
Eastern flame
Fresh coriander, lime, ginger and apple
Glass = highball
Garnish= Slice of ginger
Ice = crushed
Inch of ginger
4 stalks of coriander
25ml lime
150ml apple juice
Dash of simple syrup
Method= muddle fresh ginger, (inch) with simple syrup and the rest of the ingredients, shake and strain
Super Detox
Pomegranate, blueberries, lime and pineapple
Glass= 10oz
Garnish = 3 blueberries
Ice = cubed
8 blueberries
½ pomegranate
25ml lime
100ml pineapple juice
Method = Muddle blueberries of pomegranate, add the rest of the ingredients, shake and strain.