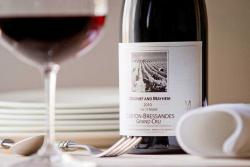 Introducing a new series of wine dinners at Paramount, the restaurant, bar and events space at the top of Centre Point, showcasing a range of vintages from esteemed English winemakers. Costing £80 per person, the dinners, overlooking the stunning London skyline, will include a canapé reception and a three-course meal, perfectly paired with wines and champagnes from some of the most celebrated and knowledgeable wine producers in Europe.
30 September 2014 – Champagne from Billecart-Salmon
22 October 2014 – Wine from Domaine de Chamans
20 November 2014 – Wine from Chateau de Bauduc
3 December 2014 – Wines from Mischief and Mayhem – Burgundy
30th September – the first dinner will be hosted by Billecart-Salmon, who, over the last 20 years, have consolidated their status as the favoured source of Champagne for many two and three Michelin-starred Parisian restaurants. Nicolas Billecart and John Atkinson will lead guests through a range of styles that demonstrate why this boutique House has become an icon of good French living, and showcase their impressive range of Champagnes including Rose Non Vintage, 2006 Extra Brut, Blanc de Blancs Grand Cru, Cuvee Sous Bois and Blanc de Blancs Vintage 2004. Decadent dishes will include native lobster with lemongrass consommé, citrus fruit and coriander; and Poulet de Bresse, girolles, leeks, braised pearl onions, pommes maxim and madeira jus.
22nd October – Domaine de Chamans will showcase wines from their 25 hectare estate at the foothills of the Montaigne Noire in the Languedoc. Described as the'most exciting wine region in the world', its geographic diversity, climatic variations and openness mean it is a region with huge potential. Owner of Domaine de Chamans – Sir John Hegarty – will present Cuvée No.1, Cuvée No.2 and Les Chamans Blanc.
20th November – Gavin Quinney, owner of Chateau de Bauduc, will take guests on a journey through his beautiful 200-acre estate near Bordeaux. The Quinneys will present guests with Chateau Bauduc Sauvignon Blanc 2013, Chateau Bauduc'La Sauve' 2012, Chateau Bauduc Les Trois Hectares 2010, Chateau Bauduc Clos de Quinze 2010, and Bauduc Sauternes 2011.
3rd December – Michael and Fiona Ragg, founders of the dynamic Burgundy micro-négociant, and domaine, Mischief and Mayhem, will present a selection of their 2010 and 2011 wines, from the fabled vineyards of Puligny-Montrachet, Meursault, Corton-Charlemagne and Nuits-Saint-Georges. Organic and sustainable farming of some of the world's greatest Chardonnay and Pinot Noir sites, coupled with meticulous work in the winery, result in these beautifully pure Burgundy wines, that very much reflect the exceptional sites from which they are produced.
The Englishmen Abroad evenings will begin with a drinks reception at 7.30pm, followed by dinner at 8pm. To reserve a table nadia@paramount.uk.net