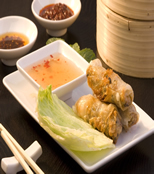 Ping Pong, the 21st century teahouse and dim sum emporium, is grabbing Chinese New Year by the horns. Teaming up with Sun Lik beer to celebrate the year of the Ox from the 26th January, a sensational selection of new food and drink offerings, alongside free cocktails, are sure to cause a stampede in the capital.
New Dim Sum
Those born the year of the Ox are said to be born leaders, and Ping Pong is certainly leading the way with their new dim sum dishes. New Year specials include a rather tongue in cheek Ox Broth – slowly braised ox with mixed vegetables in five spice sauce; Chinese New Year Mushrooms – five varieties of steamed mushrooms in a spicy mango sauce with wasabi; Lucky Crab Dumplings – steamed crab meat dumplings with prawns and a hint of ginger; Honey Glazed Ribs; and Wakame Prawn Wrap – seaweed wrapped prawn parcels topped with wasabi. Prices start at £2.79 per dish.
New Menu
For those who really want to graze, Ping Pong has also put together a set New Year's menu. At the incredible value price of just £13.99, this explosion of dim sum provides diners with 10 delicious dishes including some of the new specials and a chocolate pudding. There is also a 'no ox' vegetarian option available. Savour with a Sun Lik Beer – the first beer brewed in South East Asia – and this delicious menu is complete.
New Cocktails
Two cocktails have been specially created to mark New Year, and if you can prove you were born in a year of the Ox you get to enjoy them absolutely free*. The Oxtini combines Finlandia vodka, fresh cox apple juice, green apple puree, and green apple liquer with a hint of sage and little egg white at £5.99. For those feeling virginal, the non-alcoholic Ox Glow blends fresh cox apple juice with lychee juice over lots of ice with a hint of sage and a little egg white at £2.99.
Ping Pong's Chinese New Year celebrations are across all 11 restaurants www.pingpongdimsum.com