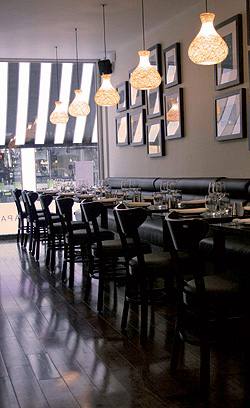 Critically allaimed, El Pirata Detapas in Notting Hill, introduces three regional Spanish degustacion menus for the summer. Showcasing regional tapas specialties from the regions of Navarra in northern Spain in July, Catalunya (which encompasses Barcelona) in August and the Basque region in September.
El Pirata Detapas has Head Chef Omar Allibhoy to thank for these accessible tasting menus which represent excellent value for money at just £20 per person. Hailing from Madrid, Omar's cocina nueva blends traditional dishes with contemporary twists, with ingredients sourced from artisan Spanish producers, all in a relaxed neighbourhood atmosphere.
Each menu features 10 different regional tapas and is designed for two to share. Typical dishes on the Catalunya menu
include broad beans with Serrano ham; traditional cod samfaina; and pig trotter carpaccio with truffle oil. The Navarra menu has been created to coincide with the region's San Fermin Festival in Pamplona, better known as the running of the bulls, which takes place from 6th July to 14th July this year. Choose from dishes such as roasted fresh cod with ajoarriero piquillo pepper sauce; chicken chilindon, paprika with Serrano ham sauce and menestra vegetable stew. The Vasca menu features Basque specialties such as mussel croquettes; red kidney bean stew and black pudding; and cuttlefish with black rice.
Head Chef Omar Allibhoy says, 'There's a huge amount about Spanish regional cuisine yet to be discovered in this country. I'm so proud of my culinary heritage and the quality of our ingredients that I want everyone in London to try it – that's why it's just £20 per person."
The menus are available from 1 July 2009 until 30 September 2009. El Pirata Detapas also offers a fantastic Menu Del Dia – a set lunch (available midday – 6:30pm) which offers a real taste of Spain for just £9. With two authentic tapas from the lunch menu, plus homemade bread and alioli, and a glass of red or white wine or a soft drink, you can't go wrong.
• Each tasting menu is just £20 per person, minimum two people per table.
El Pirata Detapas, 115 Westbourne Grove, London W2 4UP

Tasting menu, Navarra region
Grilled white asparagus with idiazabal cheese
Roasted fresh cod with ajoarriero pepper sauce
Piquillo pepper croquettes
Menestra (vegetable stew)
Piquillo peppers filled with oxtail stew Navarra style
Chicken chilindon (chicken with a paprika and serrano ham sauce)
Suggested wines
Inurrieta Norte 2006, Navarra
Gran Feudo Chardonnay 2007, Navarra
Cocina Catalana
Tasting menu, Catalunya region
Pan tumaca (Spanish-style bruschetta)
Broad beans & serrano ham
Escalivada (grilled vegetables)
Traditional cod samfaina
Pig trotter carpaccio with truffle oil
Spinach with pine nut & prune croquettes
wines
Castell del Remei Gotim Bru 2005, Tempranillo & Cabernet Sauvignon, Costers del Segre
Nerola 2006, Xare Lo, Garnacha Blanca, Catalunya
Cocina Vasca
Tasting menu, Basque region
Huevos revueltos con setas sivestres – scrambled eggs with wild mushrooms
Cod with salsa verde
'Gulas del norte' with albequina oilve oil, garlic & chilli
Trigres – mussel croquettes
Red kidney bean stew & black pudding
Cuttlefish & black rice
Ribeye steak with idiazabal cheese sauce
Cuajada (set goat's milk cream & honey)
wines
Txomin Etzanix 2007, Hondarribi Zuri, Gerariako Txakolina (white)
Ondarreb Reserva 2004, Tempranillo (Rioja Alavesa)