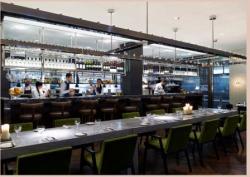 I first encountered Ravinder Bhogal's food on a trip to a Basmati symposium in India, and, despite feeling a shade'Delhi'-cate, I liked it, and not a little. Fresh, vibrant, clearly the product of a girl unafraid of augmenting the roots-y stuff she grew up on with her new foodie finds; the'Cook In Boots" dishes tempted even my timid tummy.
So I was rather enthused to come across Ravinder's month-long residency at the South Place Hotel. The title of the Saturday supperclub series –'Fork Me, Spoon Me' – may be aiming to induce mirth, but there's nowt funny about Ravinder's eccentric-yet-assured menus. From India to Italy, via the Middle East and Japan, these dishes did not leave a bad taste in one's mouth… at least on paper.
It had to be the Indian night- a pretty fishy-sounding feast featuring a whole shoal of seafood. For the second time in a month, I offered matey the chance to chow down on lobster- this one hopefully savoured slightly more sentiently than the specimen scoffed at 4am in a Chinatown diner. Although, sipping a rum-based punch resembling an Indian sunset does get things off to a similarly tipsy start…
So, when a pani puri arrives filled with oyster meat, bivalve-virgin matey is lubricated enough to go at it with gusto- and both of us end up making a small puddle of the tamarind water in front of us as we pour it into the crisp semolina shells pre-crunchy munch. The brine-y ozone flavour combined with chaat masala makes for a heady mouthful that lingers.
Next comes King Kong-sized soft shell crabs, so large I think one has a prawn in its claw – nope, that's just its claw. They're in the same burnished gram-flour batter as an accompanying baby aubergine, full-flavoured from the inclusion of thyme-like ajwain seeds, both sat atop a pretty relish-some relish – a thick mulch of peanuts, tamarind and jaggery. Fork me, indeed.
There's plenty more fish in this sea. We're each presented with a pretty high falutin' half-lobster languishing in his shell,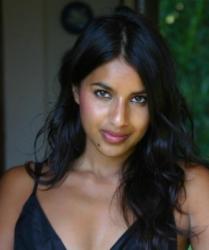 draping himself all over a slurpy, sloppy pool of gingered kedgeree, majestically and rudely nude excepting a strategic dollop of green chutney to protect his modesty. Nuts are fully on show, though – cashews paired with green beans in a tasty thoran.
It's time to get to meatier matters. Almost-stuffed matey's eyes widen almost as much as her burgeoning belly as groaning bowls of tandoori lamb chops start whizzing around the room. I'm groaning, too- the meat is primally pink, juicy enough to keep your own juices flowing, and has a properly toothsome bite. Anointed with pomegranate yogurt, it's oh-so'raita'.
I have to confess I'm a slight chubby chaser- when it comes to my animal protein, that is. And these chops have indulged my culinary perversions a treat, each boasting a lovely fatty border. Eaten with cold red lentils sharp with dried tomatoes and herbs, it's a lusty push-pull of a dish. As a bonus, every flavour's seeped into the chunks of bread Ravinder's flung into the fattoush-like lentil salad.
I don't reckon Finish Quantum could get my plate much cleaner. Pud'd still be good, though. It looks a seductive sweetie; rose-and-pistachio kulfi slowly melting into a deep pool of jelly studded with pretty pink rhubarb chunks. But I can't be doing with my rhubarb sharp and crunchy. The sublime ice redeems the dish for me, though. It tastes like an Indian temple. In a very, very good way.
Ravinder's gone and set herself a bit of a standard here. Drooling over the menu at my laptop's one thing, but it's a rare thing when one comes off quite so well in the execution. After this super scran, we'll be steering clear of ill-advised, early-hours Chinatown adventures for a while – at least while we can still scoff at these superior supperclubs instead.
The 'Fork Me, Spoon Me' supperclubs by Ravinder Bhogal cost £65pp and are held at 3 South Place at the South Place Hotel, EC2M 2AF.
Remaining dates and menus are 9th Feb – Middle East, 16th Feb – Japan, and 23rd Feb – Italy. For more information and to book, visit www.southplacehotel.com