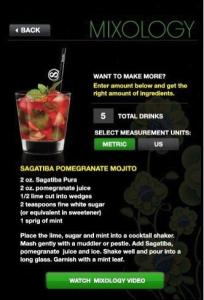 When you're on a night out or you're having a party and are in need of some great drinks recipes fast – the newly launched Sagatiba App has all the answers.
Created exclusively for the iPhone, premium Brasilian cane spirit Sagatiba has developed an application that brings the 'puro espírito do Brasil' to the palm of your hand. With a bar locator, cocktail recipe guide and video tutorials, plus inspiring documentaries with some of Brasil's most inspired individuals; the Sagatiba App is the concierge of cocktails, bringing you all the information you need to enjoy a true taste of Brasil.
From the classic caipirinha to the award winning Wallpaper, this unique application provides you with all the tips and tools of the trade to become your own mixologist. With the best recipes for classic and innovative cocktails as well as a video guide from some of the world's best bartenders demonstrating how to mix the perfect drink; you'll be the most envied host in town. When you're expecting more than a few guests, the Sagatiba App can automatically process the correct quantities of ingredients to cater cocktails for all your friends, so you won't be caught short when the party is in full flow.
Using the latest GPS technology, the Sagatiba iPhone App will quickly become an indispensable tool for the perfect night out. Whether you are looking for an alternative to your local or keen to show friends a little 'puro espírito do Brasil', the bar locator will show you the closest recommended bars to your current location serving Sagatiba. You can also discover what Sagatiba events are going on in your local area, allowing you to indulge in some carnival spirit at any time of the year.
The Sagatiba App also brings you documentaries from some of Brasil's most inspiring individuals, including fashion designer Ronaldo Fraga, singer and actress Thalma De Freitas and renowned Brasilian chef, Carla Pernambuco. So wherever you find yourself in the world, the Sagatiba iPhone App will deliver some Brasilian spirit straight to the palm of your hand.