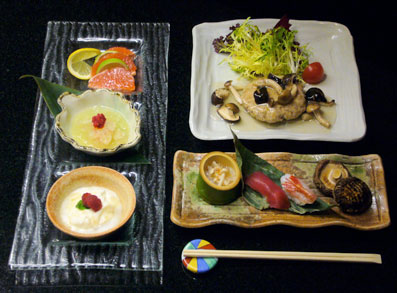 Saki Bar and Food Emporium, the contemporary and authentic Japanese restaurant in Smithfield launches two special new low calorie menus this February. Each new menu contains less than 300kcal, only a fraction of the Recommended Daily Allowance (2,000kcal for women and 2,500kcal for men), while remaining healthy and nutritious.
The Japanese diet has traditionally been healthy and Saki makes the best use of ingredients such as mineral and fibre rich seaweed and various mushrooms as well as shirataki noodles, which are made from a root vegetable similar to yam and are calorie free. However, the star ingredient of these menus is the Miracle Fruit (Synsepalum Dulcificum), a small African berry that has the power to completely transform flavours and make bitter or sour ingredients taste sweet. The Japanese refer to this sensation as 'taste tripping' with the completely natural effects lasting for up to two hours. Saki was the first UK restaurant to introduce Miracle Fruit on its menus, using it to create delicious, sugar free desserts.
Low Calorie Three Course Menu (285kcal)
Assorted Chef's Delicacy
Tuna & Sweet Prawn Nigiri, Spicy Shirataki Noodle, Grilled Shitake
Chicken and Shirataki Cutlet in Mushroom An Sauce with Mixed Leaf Salad in Non-Oil Ume Plum Dressing
Miracle Fruits Dessert Trio: Miracle Fruit Sorbet & Yuzu Sorbet, Strawberry Cream and Fresh Fruit
Low Calorie Four Course Menu (275kcal)
Mixed Seaweed Salad with Mustard Miso and Ponzu
Steamed White Fish & Grated Turnip Kaburamushi
Yuzu Flavoured Shirataki Noodle Soup Topped with Grilled Chicken Breast and Japanese Mushrooms
Miracle Fruits Dessert Trio: Miracle Fruit Sorbet & Yuzu Sorbet, Strawberry Cream and Fresh Fruit
The monthly-changing menus are priced at £24.50 for three courses and £30.50 for four courses and available for both lunch and dinner. Although both menus are substantial, customers can order a bowl of rice and miso soup, which would provide an additional 300kcal.
Ayako Watanabe, the Managing Director, together with Yoshitaka Onozaki, Saki's Head Chef has been promoting the seasonality and healthy aspects of Japanese cuisine, introducing many new, hard to find Japanese ingredients and featuring various 'detox' dishes and drinks on the menus since the restaurant opened in 2006. Last year, the restaurant was the first to launch a very successful, strictly vegetarian menu (shojin kaiseki) based on Buddhist traditions. When Saki recently managed to source a supplier of the Miracle Fruit, the idea of the ultra low calorie menu was born, with the special properties of the fruit helping to create a new experience.
Throughout the year, Saki will be introducing a series of menus and dishes inspired by the traditional seasonal festivities of Japan.
Saki Bar and Food Emporium, 4 West Smithfield, London EC1A 9JX |Tel. 020 7489 7033 | www.saki-food.com