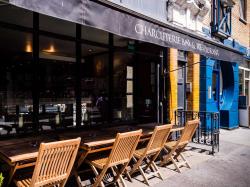 On Sunday 11th October, Salt Yard restaurant in Fitzrovia will be collaborating with The Rare Tea Company to create a four course menu paired with the option of a tea or tea cocktail. 
Chef Director, Ben Tish, has worked closely with Rare Tea Company founder Henrietta Lovell to incorporate varieties of tea into seasonal dishes such as Earl Grey cured mackerel, shaved Jamon Iberico, Piquillio pepper, cucumber and sherry dressing with celery leaves or Chamomile steeped peaches, green tea cake with whipped vanilla and mascarpone cream. 
In addition, each dish has been paired with a tea, such as Iced Wild South African Rooibos with a twist of Lemon Zest and Himalaya Cloud Tea, or a tea cocktail, including a Half Hitch Earl Grey Martini or Wild South African Rooibos Bourbon – to name a few. 
Rare Tea Company is an independent company based in London, founded in 2004 by Henrietta Lovell to source and supply the world's best tea, direct from farmers and their tea gardens. 
Henrietta travels the world working with small, independent tea gardens from Shire Highlands of Malawi to the foothills of the Himalayas.  By sourcing direct from the farms, she is able to secure unique harvests and ensure that they are crafted using sustainable practices to benefit both the land and the people who live on it.
Menus are priced at £40 per person with tea pairing or £65 per person with tea cocktail pairing.