In December, the Palm Court Lounge of Mayfair's Park Lane Hotel becomes Christmas distilled and triple-filtered.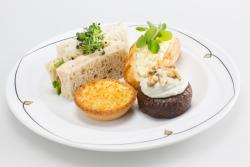 Impeccably decorated trees line chessboard marble floors and stained-glass windows shed a warm festive glow. The walls are panelled with a bird motif and 1920's Art Deco tables are  tastefully laid. The gentle plink-plonk of live harp music mingles with the pleasant chit-chat of polite conversation. It's all terribly civilised and, in short, the ideal location for Christmas afternoon tea.  
We recline in our plush seats, supping glasses of rose Champagne and browsing the 40+ teas on offer. I am wary of exotic tea, smelling great but tasting of nothing. Despite impulse to stick with English Breakfast or Earl Grey, I decide to branch out, and through the scientific process of'ip-dip-sky-blue' plump for a Vanilla Black tea. Our waiter congratulates me on my choice and explains that our tea will be brewed as we enjoy our savouries and will be served with the scones.
'Very good', I say, in a voice that doesn't quite sound like mine own, by now thoroughly immersed in the nostalgia of the place and feeling ever so slightly like a member of the 1920's aristocracy. Our'Festive Savouries' are served along with commentary from our waiter. The best I tend to get is'Who's having the steak?', so I enjoy this. As you would expect from a good afternoon tea, crusts are banished from the dainty selection of sandwiches which call to be consumed with little finger aloft.
Dainty as they are though, they all pack a punch. The salmon pastrami with pressed cucumber and coriander cress is an elegant oblong of exceptional quality smoked salmon with delicious notes of juniper and a delicate crunch from the cucumber. Gingerbread and blue cheese is a favourite of mine, and it's served as a fantastic open sandwich. The cheese is whipped, the gingerbread is sticky and spicy, and the flavours are rounded off beautifully by the sweet snap of caramelised walnuts.
A warm turkey and red onion tart is also delicious, a savoury bijou treat. On to sweets, and tea is delivered, as promised,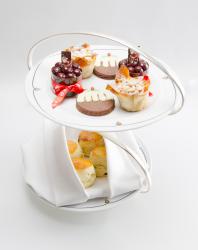 with the warm, cloud-like scones- the main event of any afternoon tea. The cinnamon and, erm…scone flavour (to say plain would not do them justice) scones come with a trio preserves, the star a zingy St. Clements curd, although apple and cranberry preserve and clotted cream and blueberry jam aren't bad.
These are simply the best scones I have ever tasted. What's more, my fear of exotic tea is allayed as the vanilla black tea tastes as good as it smells and works impeccably with the rich cream and fluffy scones.  To finish the feast, two cute confections arrive: an eggnog brulee and an apple strudel. The latter has the snappy crunch of filo pastry, a good flavour of brandy, apple and currents and an exciting vim of lemon zest.
The eggnog'brulee' is not really a brulee at all, and the flavour of eggnog is mostly disguised by a rum soaked sponge base, but it has sweet black cherries and is served in a paper-thin, Santa-motif chocolate pot that rounds off the whole experience every bit as charmingly as it began. The Park Lane Hotel has pulled out all of the stops to make its Christmas Afternoon Tea a genuinely splendid experience.
From the clucking and cooing that came from every table in our vicinity, it is clear that I am not alone in this conclusion. My one regret is that I took my blokey mate Mat, and not my old dear, to share the experience with me. That said, I don't think my mum would have noticed the harpist's anarchic penchant for playing un-seasonal Green Day tunes… and I wouldn't have wanted Mat to miss out on that one.
For more information on the Park Lane Hotel's Christmas Afternoon Tea and to book, visit www.palmcourtlondon.co.uk