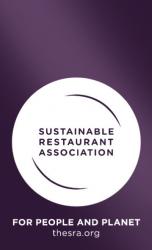 In these days of growing ecological concerns, the Sustainable Restaurants Association (SRA) is an important organisation that we should all consider getting behind. Foodepedia is supporting what the SRA is doing to help encourage restaurants to become more sustainable. As part of this we aim to review at least one SRA member restaurant each month, so keep an eye on our restaurant reviews as they're published.
The SRA, is a 'not for profit' organisation, how I hate that tag and although their principal aim is to help restaurants become more sustainable, in tandem they aim to help you, the customer, make more sustainable choices as to where you might eat out.
Launched in March 2010 the SRA are now working with over 600 restaurants across Britain. These include Fine dining in the shape of Le Manoir Aux Quat' Saisons, chains like Prezzo and Carluccio's and Wahaca and local restaurants like Eat 17 in Walthamstow in their diverse membership.
For a restaurant to become a member of the SRA, they don't need to have sustainability credentials from the outset. They just need to have the commitment to getting them and to sign up to taking a number of achievable steps each year to do that. The SRA help their member restaurants source food more sustainably and to manage a whole range of resources more efficiently. They also help restaurants to work more closely with their community. There's an independently verified star rating that enables us as potential customers to choose a restaurant that match our own sustainability priorities. Also a free I-phone application has just been launched and this will allow you to search for sustainable restaurants, or those working towards sustainability in any UK location and to support them.
Member SRA restaurants are recognised by the Association as one, two or three star sustainability champions depending on how they rate against a wide range of criteria covering 14 areas of sustainability. So, whether your main concern is animal welfare, carbon reduction, or waste management and recycling, the SRA and its members have by their association with one another committed to a change for the better.
The SRA also has a campaigning function, aiming to keep sustainability in the public eye, at local and national level, having already promoted campaigns on issues such as finding more sustainable fish supplies, food waste and energy efficiency.
If you share the SRA's concerns you can join the Friends of the SRA and receive a monthly newsletter. You could also join their Facebook page and play a more active part by leaving your local restaurant a postcard encouraging it to join the Association. A growing demand from customers that restaurants become more sustainable has to be a recipe for success for all.
For more information about the SRA go to www.thesra.org
To see details of the I-phone application on the SRA site follow the embedded link.