Whether you're an elite Oxford student, a discerning resident or simply a gawking tourist, this new wine bar and restaurant has you covered.

Wine. Wine everywhere. Walk into Wilding, a new Oxford restaurant created from the ashes of a Cafe Rouge in the Jericho district, and you can't miss the wall of wine. So many bottles and all begging to be picked up and labels examined.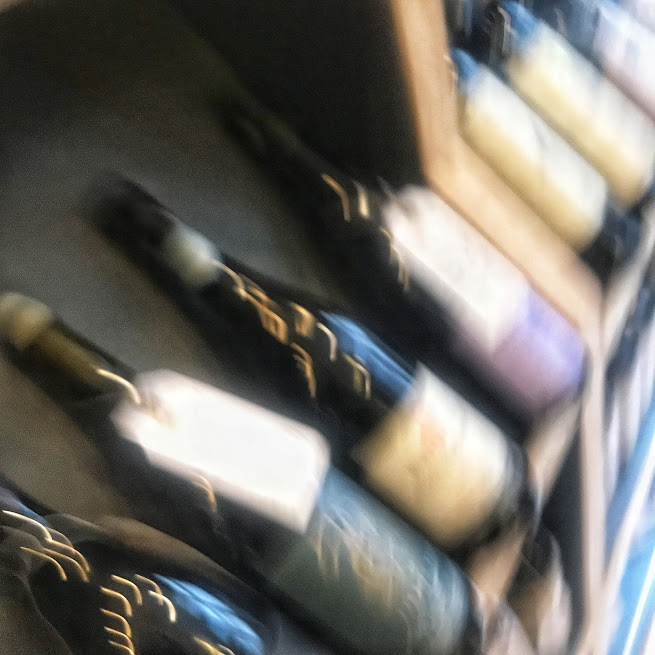 The 400-strong bottle list has been curated by wine expert and founder Kent Barker and Head of Wine Sarah Helliwell. The idea being that here's a place to try new and exciting wines on their own or with food.
The food is from head chef Dominique Goltinger (ex-Bistrot Bruno Loubet, Maremma) and he has put together a seasonally-changing menu of locally-sourced produce that covers all bases from sharing platters, dishes verging on fine dining all the way up to blockbuster burgers.



And there's a wood-fired pizza oven too, so it really is something for everyone.

Thankfully little remains of the old Cafe Rouge. Walls have come down, large skylights have been installed and major redecoration has taken place to create an 80-seater dining room and a 60-cover garden terrace.

It's a very cosy place to be, particularly when you walk in as we did from a storm wracked Oxford day with our umbrellas permanently turned inside out, to get a warm welcome.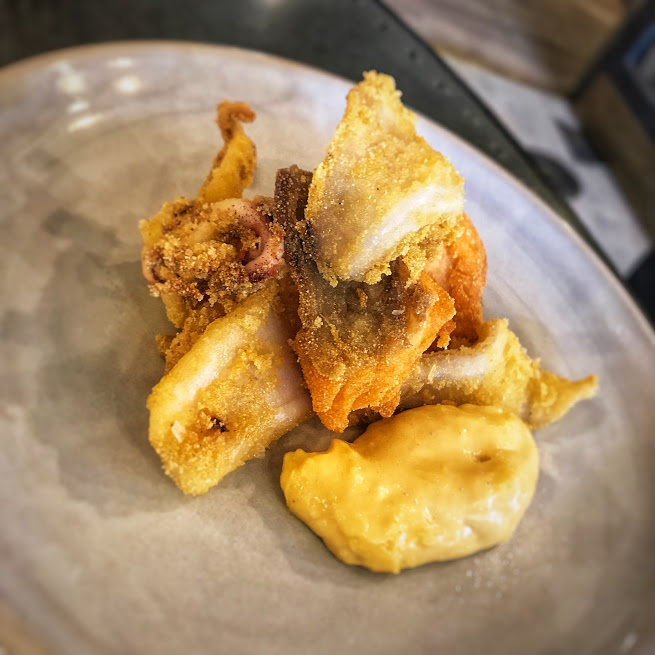 The restaurant has all kinds of cosy corners but we sat out back in the more conservatory section for a glass of fizz and a look at the brief but effective menu.
All kinds of nibbles on offer, but we settled for some fritto misto to share on the basis that while we cook all kinds of things at home, deep-frying is too dangerous and messy for us.
Light batter and fresh cod and squid to be dunked in good garlicky mayo. Didn't last long but was good while it lasted.
I was in veggie mode so the gnocchi with aubergine, Westcombe ricotta and basil pesto did me fine. Creamy ricotta, mealy (in a good way) gnocchi and the basil pesto (is there any other kind?) a lively extra.
Proper starter for P was seared scallops with sea vegetables, pickled garlic and lemon butter. Properly cooked scallops too, as in only briefly introduced to the hot pan, and the salty sea vegetables were a smart idea.


It wasn't a Sunday but the wet weather called for something hearty. P had a wooden board filled with roasted chicken components and partnered with a gravy boat and squeaky beans and crisp peas.

'Market fish' for me, baked cod with jersey royals and a foraged herb sauce, Simple and delicious, the cod being thickly cut and perfect.


And what about the wine? Well, Wildings offers fifty wines by the glass, including ten on tap, plus a further top end list available from an Enomatic dispense system.

We kicked off with some bubbles from Palmer & Co, followed by Anselmi San Vincenzo 2019 and Vietti Roero Arneis DOCG 2019 whites
Reds were Cevennes Rouge, 'La Savetière', Domaine de Gournier 2020 and Eugenino Bocchino Nebbiolo 2018.

All excellent choices.

We ended with a shared Custard tart with Nettlebed Creamery mascarpone. Delish.

I don't live or work or study in Oxford, but if I did Wilding would be definitely on my list of go to places for a glass of wine or a plate of food. And I did like the look of those pizzas.

www.wilding.wine
11-12 Little Clarendon Street, Oxford OX1 2HP
Car parking at Walton Well Road, OX2 6ED, a 10-minute walk from the restaurant.