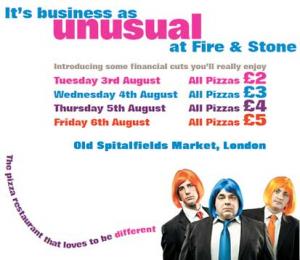 Fire & Stone, the restaurant known for their pizzas with a difference, is opening a fifth restaurant this week (2nd August) in London's Old Spitalfields Market.
The selection of pizzas is divided up into the Classics and the five continents: Africa, Australasia, Europe, The Americas and Asia. As the name suggests, the Classics selection is a collection of old time favourites that you might find in your local pizzeria, like the Margherita or the Quattro Formaggi. If you're feeling adventurous, the pizzas from the five continents really push the boat out on what should and should not be on top of a pizza.
Each continent has a choice of at least four pizzas, named after cities in the continent and is designed to incorporate the flavours from the local cuisine. Take the Peking for example, Hoi Sin sauce, aromatic duck, spring onions and cucumber; exactly as you might find in Peking duck, except on a pizza. And there are plenty of other unexpected ingredients to choose from, say potatoes or raisins. With 27 pizzas to choose from and the option of creating your own, there's really no danger of getting stuck in a rut.
The ingredients used are wildly fresh and although not organic, are selectively sourced from their trusted suppliers. The décor is modern and stylish with a choice of tables and booths. And in addition to the extensive pizza menu, the restaurant also offers as selection of pasta and salads for those who are less inclined to pizza, as well as carefully chosen wine to match the food.
What is surprising is the restaurant's philosophy of catering for everyone from corporate parties to hen nights, and in particular for families. The new restaurant, like the originals, will have special children's packs as well as offering discounted family menus over school holidays.
To visit the new branch and see the restaurant opening offers, head to 4 Horner Square, Old Spitalfields Market, London E1 6EW www.fireandstone.com