Facing Heaven marks the beginning of a new era, opening right around the corner from Mao Chow's HQ in Hackney, which closed on 26th February. 

Starting as a pop-up, Julian found a permanent home for his Sichuanese concept in that tiny, former coffee shop in Hackney in 2019 and since then has created a cult following for his unique style of simple dishes, loud flavours and bold delivery.

Now, Julian is taking the next step on his journey with the launch of Facing Heaven, opening mid-March.

Focusing on family-style dining and sharing plates, highlights on the menu include Denis' take on Macau Style Baked Pork Chop Rice, using crispy oyster mushrooms, curry sauce and vegan cheese, Spicy And Numbing Twice Fried Jerusalem Artichokes with Green Chilli Dip and Dongpo Cauliflower. 

There will also be a selection of retro-inspired desserts alongside a list of funky natural wines and Baijiu cocktails.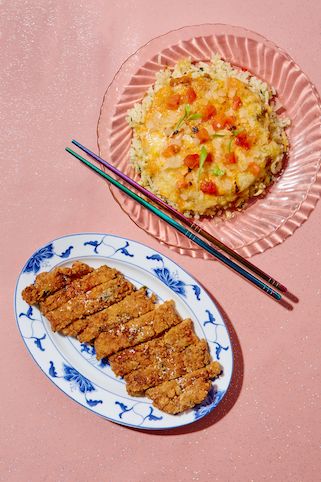 Named after the potent Sichuanese chilli, which is at the heart of the cuisine and breaking free from all restrictions, the new restaurant will focus on a variety of regional Chinese cuisines with influences from Denis personal background including Portuguese, Puerto-Rican and American inspirations.
The bigger kitchen space at Facing Heaven has allowed Denis to devise a more complex menu with elevated dishes using fresh seasonal vegetables, spices and of course chilli, to create punchy flavours. Staying true to its essence, everything on the menu is still 100% vegan.
Facing Heaven, 1a Bayford Street E8 3SE, London
Opening hours: TUES – SAT / 6PM – 11PM