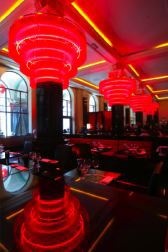 Now this is what we call a PR release! Hyperbole ahoy!

" Experience the decadent, bold flavours of the new Opus One menu from Head Chef Russ Brown. The new seasonal menu offers traditional British foods with a wealth of tastes and flavours.
Opus One offers a dining experience that focuses on its core – the food. The sheer dedication and the skill, combined with carefully sourced, quality, local and British produce, creates a thoroughly enjoyable experience at the Opus One restaurant. The menu also features herbs and vegetables grown in the Opus One Roof Garden.
Opus One is indulgence on a grand scale. Crimson red glass, antique gold wall coverings, high gloss black lacquered woodwork, crimson red chandeliers wrapped around ornate classical columns, bespoke furniture in black crocodile skin hide, illuminated glass flooring within the colonnade and original artworks and sculptures are highlighted by decorative wall lighting. Opus One is a real treat for those who enjoy fine dining without pretension.
Starters of Pressing of Slow Cooked Duck & celeriac with prune relish and marmalade bread; Pan Seared Scallops with chervil mash potato, brown shrimp cream & herb foam or Caramelised Onion & Wild Mushroom Tart served with pea shoot & herb salad, are followed by honest British mains – dishes such as the Fillet of Beef with goose liver ravioli & three mustard sauce or the Pressed Pork Belly with sage gnocchi & apple turnover.
The explosive flavours continue through the main courses with Combination of Spring Chicken; seared breast, slow cooked leg, chicken pie, chicken & black pudding sausage; and the Monkfish wrapped in Parma ham & lightly spiced mussels, Vegetarians can enjoy the flavours of Whitehaven Goat's Cheese & Spinach Tortellini accompanied by a basil cream pesto, amongst other dishes.
Russ Brown's celebration of food and ingredients flows right to the end of the meal with an array of desserts complete with signature twists and explosive flavours. The Hot Tarte Tartin of Pear is served with an accompaniment of clotted cream, while the celebration of the foods of the British brings a classic Selection of British Cheeses with walnut bread to the Opus One menu. If you are looking for something fresh to cleanse the palette the Lemongrass Pannacotta will do just that; a lemon delight, with orange & chilli syrup. Sheer decadence can be found in the mouth-watering combination of Bitter Chocolate Torte, Milk Chocolate cheesecake and Warm Chocolate Brownie- the perfect finale to a symphony of tastes and flavours."
Gosh. Well let's hope Mr Brown can live up to his hype