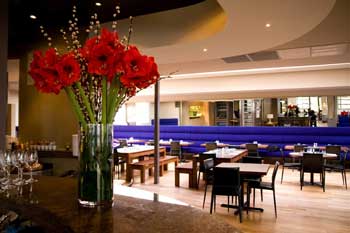 Situated just off Fulham Broadway on Dawes Road, Salisbury, a well known Fulham pub has recently been taken over and lovingly refurbished and restored by restaurateur Jamie Sherriff, landlord of the hugely successful The Spencer Arms on Putney Common.
Jamie's concept is a simple one, Salisbury is a contemporary take on the traditional London pub and combines a comfortable laid back bar and games room with a sleek but ultra relaxed restaurant which serves some excellent, well priced modern English and Mediterranean food.
Subsequently Salisbury has a rather unique, European feel to it with its clean, Art Deco inspired interior that bucks the usual gastro pub trend of Victorian chandeliers, mish mash antique furniture and baroque mirrors.
Head Chef Adrian Jones, who has over the years worked alongside some of Britain's leading chefs (Nico Ladenis, Pierre Koffman, Gary Rhodes, Bruno Loubet and Shaun Hill) is at the helm of the kitchen and has devised a stunning menu that showcases his love for English tapas, and simple modern cooking.
There are no starters featured on Adrian's menu at the Salisbury, just an ever-changing selection of tempting small plates or English tapas perfect for sharing or alternatively on their own as a light lunch, bar snacks or ordered en mass as the ultimate starter selection. These include Smoked trout and macaroni cheese; Rabbit kidneys with mustard; Chicken and cashew curry; Feta, mint, pea, and broad bean salad and Venison chipolatas with salsa verde, to name a few.
Adrian's main courses feature a range of rustic comfort dishes using simple gutsy flavours and are served in quirky enamel pots. Choose from Roast lamb, lamb meatballs, chorizo, garlic leaf, and del monico potato; Herb crusted salmon with Thai spiced cucumber or Gnocchi, baby spinach, courgette, crispy fried garlic and chilli, for vegetarians or people who love gnocchi. Salisburys Pheasant and foie gras pie is a must and can be pre ordered as a takeaway as long as you promise to return our dish the next day! Moving on to pudding and a wooden board groaning with hot from the oven Honey Madelines and a mound of dark chocolate, espresso and kahlua truffle for dipping; Cinder toffee and rhubarb Eton mess; Apple pie, good enough for two with lashings of custard or Tickelmore cheese with warm homemade oatcakes.
The bar at the Salisbury offers a fantastic range of draft beers and cider, as well as a good selection of reasonably priced handpicked world wines, all that complement Adrian's ever changing menu perfectly.
Salisbury, with its excellent food and drink offering, stunning contemporary interiors and truly relaxed laid back feel is sure to, like its sister venue in Putney, become an overnight success with both the locals and discerning London diners, looking for something well priced and original to patronize.