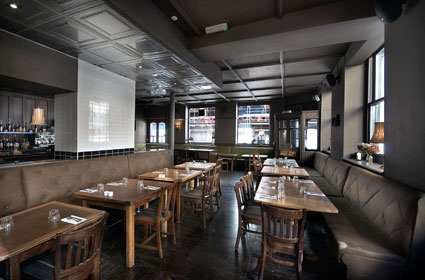 A bit of Shakespeare for you there to announce a new Pub and Dining Room in the heart of the bustling regenerated Kings Cross area. This new modern pub and dining room says it is offering exceptional food alongside a quality selection of ales and wines, a retro cocktail lounge and intimate private dining room. The Fellow, named after the triumphant French racehorse that won a cluster of titles in the 1990's, is situated a stones' throw from St Pancras and the media hub of Kings Cross.
There's a ground floor Pub and Dining Room, on the first floor a Cocktail Bar (The Black Door) with a heated Roof Terrace and on the second floor a Private Dining Room. While each floor is individual in its own right, they are linked through design, colour and texture, soft lighting and the use of eclectic vintage and contemporary furniture.
The Pub and Dining Room
The ground floor Pub and Dining Room captures a New York style; with an embossed metallic ceiling hanging over the dark wood, blue and grey tiled bar, while seated areas run the expanse of the wooden floored space. Opposite the bar is the Dining Room where comfortable banquet seating line the walls and a selection of rustic wooden tables and chairs sit in view of the small but efficient kitchen run by Head Chef Nick Leonard.
Nick's daily changing menu at The Fellow encompasses classic and modern Anglo-French cuisine, reflecting its namesake as well as the area's close links across the Channel. Dishes synonymous to both countries sit comfortably alongside each other on this 'bistro-style' menu. This link is also mirrored in Nick's choice of cheeses, with French selections from La Fromagerie and British cheeses from Neal's Yard.
As well as using seasonal ingredients and produce sourced locally from around the British Isles, Nick not only bakes his own bread, but makes The Fellow's own sausages, charcuterie and ice creams on the premises. Dishes found on The Fellow's a la carte menu include,
French Onion Soup
with Westons Organic Cider and Applewood cheddar crouton
Rabbit and Ham Terrine
with celeriac remoulade
Mini Venison Burger with Home-made Chorizo
and goats cheese
Fillet Steak Tartare
with duck egg, aioli and chips
Berkshire Wild Boar Chops
with red cabbage and apple sauce
In addition, The Fellow serves Sharing Plates for two; examples include Roast Rib of Beef with all the trimmings, Roast Leg of Lamb and Whole Sea Bass. This is particularly popular for Sunday Lunches as customers relax on the comfy sofas and enjoy a hearty roast with all the trimmings.
The Fellow's Wine List has been carefully considered to be a comprehensive list of over 50 unique wines from Old World Europe, as well as some highlights from the New World. Wines are divided into styles such as 'Aromatic & Luscious', 'Elegant & Mineral' and 'Rich and Complex' under white wines, and 'Savoury & Fruity', 'Warm & Spicy' and 'Silky & Fine' for the red varieties, and features wines such as the biodynamic red 'COS Cerasuolo di Vittoria Classico' from Sicily and the Hatzidakis Santorioni Cuvee 17 from Greece.
The Black Door Cocktail Bar
A sleek curved red bar serving classic American cocktails reminiscent of a bygone era sits at the heart of the cocktail lounge 'The Black Door'. Sleek chairs, sofas and low tables from the 60's and 70's create a stylish and glamorous drinking den perfect for sipping martinis while listening to DJ's playing a mix of vintage sounds; Northern soul, New York funk, 60's psyche and disco on Friday and Saturday nights. While guests can enjoy a pre or post dinner cocktail, the bar can be frequented until late at night via a speakeasy style side door, or 'Black Door', and its own private staircase.
An adjoining wooden decked heated Roof Terrace is open all the year round for patrons to enjoy all evening, or for those wanting a secluded smoking corner.
The Private Dining Room
The second floor private dining room has a home-from-home feel completely private from the hustle and bustle of the downstairs bars. Vintage armchairs, retro lamps and a long banqueting table create an intimate and atmospheric space to entertain. Guests can enjoy gourmet feasts with family or friends such as,
Whole Roast Duck
with stuffed cabbage, potato cake and bacon
Whole Baked Turbot
with béarnaise sauce and chips
Whole Sirloin of Beef
with horseradish cream and roast potatoes
Followed by desserts for the entire table such as,
English Apple Tart
with butterscotch sauce and crème fraiche
Sherry Trifle
Treacle Tart
with whisky ice cream

The Fellow is not simply a neighbourhood pub, but a destination venue serving outstanding hearty food in stylish surroundings, and is certainly a welcome addition to this exciting and flourishing central London area.