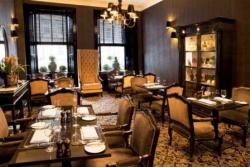 From Holyrood at the bottom of Edinburgh's Royal Mile, to this new restaurant in the heart of the city's elegant New Town is a bit of a hike. Given that said hike was on a Monday evening through the kind of weather that moved me to envy Gene Kelly in THAT musical – at least his rain was vertical rather than horizontal – you can imagine I wasn't my usual cheery self when I finally shut the door on a vicious wind that had snapped at my sopping heels all the way across town.
As I was divested of coat/scarf/boots/brolly, I had a sense of having come to a better place. Nira Caledonia is a 28-room boutique hotel in one of Edinburgh's more exclusive addresses, occupied in the dim, distant past by one John Wilson. Professor of moral philosophy at the University of Edinburgh, Wilson wrote for Blackwood's Magazine, a Tory publication founded in 1817 and with a colourful history – including a fatal duel over alleged libel – that ended when the ink dried on the last ever edition in 1980.
Anyway, enough of the history… what of the current incarnation of the place? I have to say, first impressions were excellent, but spicy king prawns, Caesar salad canapés and whisky cocktails were a help. The Georgian exterior of Nira Caledonia gives way, inside, to a rather more Victorian vibe… the bar and restaurant – with just 20 covers, prevalent tones of gold and black, chandeliers, hurricane lamps, and lots of texture, from wall coverings to upholstery – feeling like a grand family parlour, right down to the stuffed bird in a glass cage atop the armoire between two ornate, oval mirrors. There's a seductive sensuality to it.
The slight sinking feeling my husband, Iain, and I felt as we took our seats had nothing to do with the surroundings or company, but the extremely comfortable dining chairs seemed a little too low for the table. I prefer a little more support, and these heavy numbers were not only difficult to manoeuvre, but they took me back to childhood days when I needed a cushion to add enough height to reach the table. The starters put paid to our discomfort however, as we had our first taste of what a Josper grill can do for a mussel.
Blackwood's head chef David Scott explained that he'd only recently started working with the Josper – a top quality oven which gives a distinctly smoky charcoal flavour to whatever finds its way on top of its coals, cooking hand-picked ingredients over high heat to seal in natural moisture and flavour – but despite being a novice with his oven, there was no doubting his talent, or passion, for producing beautiful food.
Scott has revamped Scottish favourites, and all Blackwood's ingredients are farmed, caught, raised or bred in Scotland. There is'Highland Drovers' beef, outdoor reared on grasses and heathers, and dry-aged for at least three weeks; Peelham Farm organic pork and lamb; Gartmorn Farm poultry; wild pheasant; and Loch Duart salmon.
So, back to those Shetland mussels, succulent and smoky in white wine and chili, and a melt-in-the-mouth pheasant, partridge and pigeon terrine, accompanied by a zingy spiced apple chutney and the humble oatcake. The non-meat/seafood eaters at our table were delighted with their mushroom risotto and parmesan crisps, and my husband – who loves shellfish – was, in turn, delighted to have the smoky mussels all to himself.
My main course was, according to Iain, "almost a zoo". Well, a chef has to showcase his meat! I make no apologies for making short work of the mixed grill platter – beef fillet, pork loin chop and lamb cutlet, their individual distinct qualities enhanced by a sweet, wood-smoky saltiness, meltingly tender inside, and most definitely'Jospered' to perfection. The green peppercorn and Glenkinchie whisky sauce worked well on the side, as did the wilted spinach and new potatoes, all cooked in the grill. Iain's wild Scottish sea bass fillet was firm and flavoursome, the accompanying Bearnaise sauce a velvety delight.
There was a collective groan when the desserts arrived at our table. Methinks we did protest just a little too much though, as the tasting platters of white chocolate and Baileys cheesecake, banana sticky toffee pudding, and raspberry and Drambuie cranachan trifle disappeared before there was even a hint of "Oh, I really couldn't but…"
During dinner, Mr Manvinder Puri, Nira Hotels' owner, put forward his case for a, home-from-home restaurant where locals and guests will mingle to enjoy smoky food, good wine, and wash it down in the bar after with peaty malts, or Hendrick's juniper, coriander and rose petal-infused Scottish gin. With prices of £7 for starters, between £10-£27 for mains, and £6.50 for desserts, the locals will have to be pretty well heeled, but it is Gloucester Place, after all.
It was still raining as we left Nira Caledonia and I danced a wee whisky-fuelled jig of pleasure to find a cab waiting on the cobbles. Gene would have been proud of me.