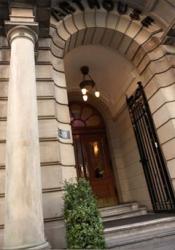 Don't judge a book by its cover, they say. Being a woman, my judgmental synapse is finely honed and exercised at regular intervals. Whether it's sizing up a friend's new man or picking out a place to eat, to me appearance is everything. That said, rare as it might be, I do take great enjoyment in being proved wrong.
Lo, good people of Glasgow, please take a bow. All my preconceptions about you and your city have been Glasgow-kissed goodbye. From your stylish train station replete with Champagne Bar, to your Palladian architecture, your friendliness and your food, I concede I was wrong to think less than kind thoughts.
My base for this odyssey of discovery was Michael Caines' ABode Hotel, on central Bath Street. Although only a small and independently owned chain, it is still a chain and I admit to having pre-judged it as a formulaic Premier Inn with a 'celebrity' price tag. Not so. The rack rates are really reasonable and the 59 bedrooms range from 'Comfortable' and 'Desirable' through to 'Enviable' and 'Fabulous', a fun touch. Mine was enormous, with double height ceiling, gigantic stained glass window, monsoon shower and large screen LCD telly. The Vi-Spring bed was ridiculously soft and squishy – I almost rolled off it twice.
The central vestibule of this former Edwardian Arthouse has been wonderfully restored with its gilded cage lift, embossed tiles and an elegant water feature lending the place a sophisticated air. There is a basement bar (happily entertaining a number of folk by the stroke of five) and on the ground floor is the Michael Caines Restaurant, our lunch destination.
Caines has quietly gone from strength to strength in recent years, with his restaurant at Gidleigh Park in Devon being named the best restaurant in Britain last October, in a consumer survey conducted by the Sunday Times and Harden's restaurant guides. The Dartmoor venue received a score of 9.86 out of 10 and the food – where dinner costs around £127 a head – was described as 'flawless'. Pricing at his award winning ABode eateries is a little more accessible and his 'Amazing Graze' lunch concept offers a three, four or five course tasting menu up to a maximum £22.50. Add wines to match for £3 per course.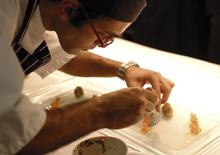 We were welcomed to the dining room (decked out in brand MC orange and mocha tones) by Alan Brady, himself a decorated Restaurant Manager of the Year, as voted by the Scottish Hotel Awards. Alan is the type of guy of whom if you asked to nip out and procure a bearded gigolo and a Montecristo No.1 to go with dinner, he would nod and reply 'Certainly, madam." Together with his team of smiling waitresses, they set the tone for a high end experience, without the stuffy formality or exorbitant prices.
The Graze menu changes weekly and in accordance with what's good and local, and while closely overseen by Caines, is executed by Craig Dunn (Chef of the Year, Scottish Hotel Awards). Advised to pick dishes as we go, we aimed for three each from the nine on offer. Wild mushroom, roasted garlic and thyme soup came served in a little espresso cup and was as decadent, fragrant and comforting as it reads on the page. Already I wanted to dispense with the 'tasting' aspect of lunch and get my head into a bucket of this. The bread basket was filled with warm, homemade wedges of herb, olive and sun-dried tomato carbs.
There followed a braised ox cheek, dark and meltingly tender, with baby onions, smoked bacon and a smear of broccoli purée. Craving more of the unctuous gravy, it was delivered promptly in a jug, and with a furtive bread wipe, the plate was clean. The other mini-main was fillet of black bream, sitting on a small, sunny pile of haricot beans, fennel, chorizo and dill. An unannounced profusion of diced red and yellow peppers threatened to take over, but they had softened in the pan oils and thankfully didn't overpower.
Onto the sweet stuff and a perfect plate of P-tastic pear mousse, poached pear and Poire William ice cream. What a performance for the price! A very special plate of pudding indeed. The dark chocolate and praline cremeux was a chocolate pot by any other name and while naughtily rich and smooth, is never going to send me into orbit. The passion fruit jelly cubes on the side were more exciting, but in the points war my pears won.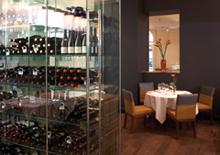 Coffee and some intricate petit fours rounded off a very fine meal, leaving us feeling satisfied and spoiled, rather than gluttonous and guilty. My taste of Glasgow lasted less than 24 hours, but I liked it.