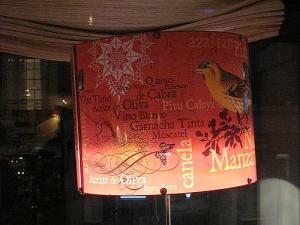 Iberica is a tale of two places to eat. The buzzy, modern, stylish tapas bar downstairs and Caleya the upstairs fine dining restaurant. I'd already tried downstairs so it was high time to ascend to the more formal place. The din of people having fun becomes muted up there and a more romantic atmosphere replaces it. I like a post-work drink, shout, feed and a fight as much as any Spaniard, but sometimes it's nice to just be a couple and converse.
Iberica Caleya is also a tale of bi-polar cooking. Starters and desserts of true genius, mains of less than perfection, but let's continue up those stairs before we dish the dirt.
Some critics have had a pop at Caleya's decoration and style, but I rather like it. Bright and modern and with chairs that boast extra wide seats, presumably for extra wide bums, it's friendly and cheerful. You do feel that it's part of an original space divided horizontally and that the vertical proportions don't quite work, but I'm not Kevin McCloud and this isn't Grand Designs, so who cares?
Anyway, the bread is enough to distract you. By God it's good, the crust is perfect, the crumb fantastic. Dipped in the olive oils and then dunked in rock salt it's very addictive. If they can get the bread right, it bodes well for the menu.
You got to have a bit of sherry with Spanish, at least in my book, and so we do. And at a reasonable £4 a big glass it washes down a little amuse of a mussel in tomato consommé very well. The mussel has real taste of the sea, something often lost in the cooking, so someone is on the ball in the kitchen.
That person must have made the starters, fabulous croquettes of Jamon that are perfectly deep-fried and wonderfully creamy. There are eight of them too, lying on black slate but not for long as I pop them into my mouth and make happy noises. Also superb is the marinated yellow tail tuna loin with grain mustard, Granny Smith apples and Asturian fresh cider. It zings with flavour, everything perfectly balanced and the tuna clearly sashimi grade. This is real talent at work.
So where did that talent go for the mains? Out for a fag? Crispy confit Segovian suckling pig, apple puree and frizzy salad sounds alluring and it looks good, although the salad is a bit supermarket pillow bag. Crispy confit though? Surely it can't be both, only one or the other? The skin and fat look crispy but aren't, just limp and unlikeable. The pork is certainly meltingly tender, but also tasteless. I rather suspect the kitchen has used a sous vide, that piece of kit that promises a short cut to Michelin Stars, but which needs care in use; in seasoning the meat before and in finishing after. I'm not happy about the odd bits of gristle either.
The story on the Roasted shoulder of suckling Segovia lamb with herbs, accompanied by mushrooms and green peas is similar. Yes it has been roasted, but it is very fatty and also lacking in flavour. The mushrooms are not tinned, of course, but they sure do look like it. The peas are few in number and overcooked. These are not very good dishes at all, and certainly not for £25 approx each.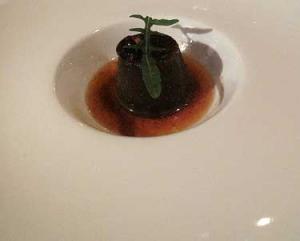 We're shaking our heads in wonder over this, but perk up for dessert. The genius in the kitchen has come back in and made caramelised rice pudding which is just two blobs on a slate but never before has unphotogenic tasted so unbelievable. Heavenly stuff this, but it pales when compared with the Crème Caramel with Moscavado sugar, Granny Smith apple consommé, black olives and rocket. This is cutting edge, inspired cooking, the black olive saltiness contrasting with the sugar and making the dish alluringly dark. The pepper of the rocket and the acidity of the apple consommé are quite remarkable partners. This is my best dessert of 2009 so far, no contest at all.
So there are at least two very, very good reasons to go to Caleya; starters and desserts. Maybe we got unlucky on those mains; I'd really like to think so because there is clearly magic available in the kitchen. The staff are lovely, service smooth, ambience charming, wine list enjoyable and the cuisine modern and ambitious. London needs a fine dining Spanish restaurant, good tapas bars are ten a penny after all, and Caleya, on the top floor, could fit the bill. It just needs that small step up.