The organiser behind iconic New Zealand winery, 'Cloudy Bay' recently invited me to whittle down, from eight to five, the tastiest dishes for a pop-up 'Crab Shack' on a patch of Parson's Green. Along with my negative RSVP, I indicated that having very visibly criticised the Michelin-endorsed mothership of the project's consultant chef, Tom Aikens, it might have proved uncomfortable to prop us around the same table.
'But that's why we invited you', came their response. Mystified, I asked for more. The longer retort suggested that the chef infamous for hospitalising his stagier with a broad palette knife 'as a joke' might be mellowing with age. Apparently when faced with disgruntled customers (and it seems critics) Aikens now seeks to salve away bruises of 'initially negative opinions'.
Although I found Aikens' eponymous Chelsea restaurant 'utterly devoid of creative warmth', and his much reported non payment of suppliers abhorrent (the wine trade was particularly hard hit) I do remember the impeccable battered gurnard rinsed with wines, bravely, from an all-English list at his shortly lived sustainable fish 'n' chippie.
Fast forward a month and I found myself making the short journey past the 'Sloaney Pony' for day one of two of Cloudy Bay's Crab Shack (on my own steam). Beyond a white picket fenced paddock all was twee, and only gently branded. A '30's style brass band agreeably mumbled whilst pooches got frotting, and attractive, well-meaning staff gauchely clicked into gear.
The upmarket festival food came from a chrome caravan adoining a tent. For £8.50 you got a glass of wine (unconventionally and possibly illegally dispensed in 100cl measure) and a little disposable bowl of sustainable seafood (or slow roast lamb). Despite the pop-up's title, only two of the options involved any crab. These being taster sized dishes, I chose to make mine a two-strong brunch, forgetting, in the process, to order any crab.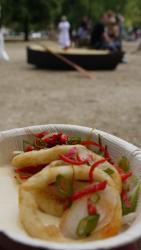 Paprika and chilli pricked calamari spruced with a squeeze of lime proved briskly fresh and unsurprisingly for a kitchen operational for such a short time, cleanly battered. My only reservation was the meagre portion. Nonetheless, it paired well with glycerous Te Koko '07.
Named after Te Koko-o-Kupe, the pre Captain Cook, Māori title for Cloudy Bay, this Sauvignon Blanc is slowly fermented and oak matured, effectively bevelling into submission the horrid, shrill passion fruit cordial pout that this grape can yield when treated as a cash cow in Marlborough. Tomato salad with basil, watermelon and minted crayfish demonstrated Aikens' typically pretty, leaf strewn presentation. With it was the wine that 25 years ago started a phenomenon which saw otherwise rational beings beg for their supply – Cloudy Bay Sauvignon Blanc.
Beyond the Conqueror watermarked label, this oak free 'naked' version adhered more closely to the blowsy, fox pee doused unripe asparagus bush fug template. In its defence, the fruit character was impeccable, aftertaste long and the fruit on fruit match with Aikens' dish, technically fine.
Aikens' own bio blithely labels him 'undisputedly one of the most exciting chefs in the UK'. Given the setting, like almost any professional chef denuded of full kitchen and intuitive brigade, that statement tested negative. But overall, the experience provided the people of Parson's Green a novel way of providing almost playful matches with the fermented fruits of one of LVMH's best loved wine brands.
Regardless, I harbour no ambition to cosy up to Mr. Aikens and remain dubious as to whether I approve of the notion of being approached to take part in something that might be seen as chef-critic counselling by stealth…
The options at the shack are available throughout August at Tom's Kitchen (at greater cost)