Degò, 4 Great Portland Street, London W1W 8QJ www.degowinebar.co.uk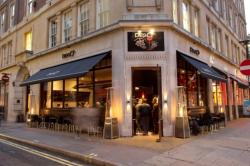 Degò is literally just a two minute walk from Oxford Circus Tube station. This new restaurant opened on the Market Place corner of Portland House in mid October. At the entrance level there is a stylish wine bar where you might like to stop and have a drink, before you make your way to the restaurant on the lower ground floor. Decorated in red black and brown, there are deep leather upholstered seats to the tables which are largely set out in a kind of open booth style arrangement. To one end there is a substantial bar, behind which you are able to see the very well stocked humidity controlled wine cellar. The lighting is subtle giving a relaxed feel to this modern, stylish, Italian restaurant.
Degò has a great cocktail list, we each had a very good dry Martini while we decided what we would eat. Their wine list is pretty extensive with wines ranging upwards from £18, there are several around the £20 mark. Many of the wines are also available by the glass, so you can pair your wine with the dish you plan to eat.
The menu is set out like many Italian restaurants, Antipasti, Primi Piatti, Secondi Piatti and Dolci. What to choose? We decided to try something from each section of the menu, two Antipasti, one Primi (to share), two Secondi and one Dolci, again to share.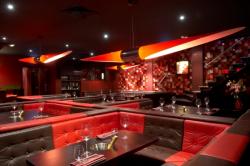 Having chosen we waited in anticipation while we finished our Martinis. Our Antipasti arrived, beef tartare with radicchio and sweet bread, the tartare was lovely, beautifully tender little pile of coarsely chopped raw beef sat in the middle of a well dressed salad of radicchio, these two elements contrasting yet coming together well in a simple but impressive dish. The salmon carpaccio with quail eggs and black bread had numerous ripples of thinly cut smoked salmon swirled in the centre of the plate, this accompanied by three fried quails eggs, sunny side up, on the black bread, the combination of egg and smoked salmon is classic, the two pair together well and this dish was no exception, the egg perfectly complementing the salmon, which had great flavour. Another simple dish that was excellent and looked very inviting on the plate
Next came our sharing Primi dish, the beef lasagne. This individually made lasagne was circular, about the size of a standard saucer, it was layered with a good deep beef sauce, not overly wet – unlike some lasagne you get in restaurants where you really need a spoon to eat it. This one was a joy to eat, really tasty with great texture.
We moved on to our Secondi plates. The chicken breast in a salted vanilla crust was tender and juicy, deliciously perfumed and flavoured by its cooking crust, though care had to be taken to ensure that this salty casing was scraped off entirely. This was served with a taraxacum (dandelion) salad which went very well with the meat. The grilled tuna was a great dish. The tuna was soft and pink, an excellent piece of fish, perfectly cooked, on the rare side of medium rare, this came with nicely al dente Swiss chard and spinach, which balanced it perfectly. These were two very well executed excellent plates of food.
We finished our meal by sharing a Dolci dish of tiramisu. This was both light and decadent at the same time, the biscuits remaining crisp, enveloped in the rich creamy sauce, presumably having been constructed just before serving, it was voluptuous yet with some crumbly texture. This was a divine creation to finish our meal with.
We decided to go with the sommelier's recommendations of wines by the glass, they were very good and were absolutely right for the dishes we had. Service at Degò was very efficient and attentive throughout the meal, the team there work well together. Our experience at Degò, was very enjoyable, their food is beautifully presented in its simplicity, excellent quality and tasty. The restaurant has an intimate atmosphere and a stylish, comfortable feel, it's a great place to go both for quiet dinners with someone special or in a larger party. Go there, try it.