Delima Malaysian Restaurant 36 Southwick Street, W2 1JQ www.delimarestaurant.co.uk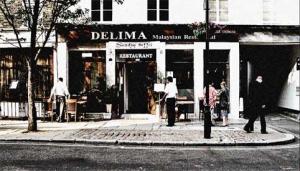 Tucked away on Southwick Street in W2, you'd be forgiven for not knowing about Delima, a new Malaysian restaurant. A few minutes walk away from the bustling hub of the Edgware Road and Paddington Station, the locale of this eatery may prove to be its secret weapon, along with its impressive cuisine served at affordable prices.
Boasting a diverse mix of Malay, Chinese and Indian influenced food, the menu is extensive with classic offerings such a stir fry chicken with black bean, a wide ranging fish range of salmon, sea bass and skate, and, for those who cannot choose, a set menu at a reasonable £18.50.
Delima is a thoroughly modern space with wooden floors, simple décor and intimate, low table lighting. The result is an immediately cosy atmosphere, with a splash of fun in the form a piano that made for an interesting touch. A few Malaysian inspired wall hangings would however add a touch of personality to an otherwise plain space.
Being new to Malaysian food we were happy to be advised by our waiter and son of the family owned and run restaurant Wayne Ahnad, whose knowledge of the food and passion for particular dishes guided us through the menu with ease and good humour.
Starting with the satay chicken served with rice cubes, cucumber and peanut sauce was a delight. The skewered chicken was moist and tender and the peanut sauce was rich without being sickly sweet. The rice cubes and cucumber made for a welcome light aside to the satay sauce and were surprisingly morish. Continuing with chicken we tried the crispy chicken strips which were dish deep fried in batter that was really crispy with no greasy aftertaste.
Along with the chicken starters we sampled the traditional roti telor; a fresh baked bread with egg in the middle and a warm lentil dipping sauce. On first glance the flat, square bread looked like a naan, complete with customary large brown cooking spots. However, slicing the bread revealed the soft cooked egg, which was surprisingly light and worked well with the warm, delicately spiced lentil dalcha. A great dish to share.
Up next was the mee goreng, an egg noodle stir fry served with vegetables, prawns and beef. This well presented dish was clearly cooked with care. The noodles were soft and melt in the mouth and the mix of prawn and beef was delicious and well seasoned. A generous noodle dish, this was a main in itself with no need for a meat or fish dish to accompany it.
On recommendation from our attentive waiter I tried the beef rendang which was very much like a dry curry dish. The beef was cooked with ginger, lime leaves and coconut and it was the lime that really shone through here and worked well with the beef. Served in large chunks, the beef was however a little difficult to navigate with the spoon and fork provided and would be better served a fraction smaller. Again the meat was well seasoned and tender. This was a fragrant, full flavoured dish that when served with nasi putih, a plain white rice, was very enjoyable.
To end we tried the pisang goreng which consists of banana fritters served with ice cream topped with maple syrup. This was a rich end to the evening and could quite easily be shared between two. To accompany the traditional Malaysian dessert menu of tapioca seed pudding and bubur pulut hitam (a glutinous rice served with palm sugar) is a list of ice-creams that upon sampling the strawberry, proved a fruity hit that certainly soothed a very full palate.
With starters ranging from £2.50 to £6 and mains between £4.50 and £7, Delima is serving up traditional Malaysian food at competitive prices, and with a BYOB scheme, quiet location and family passion driving it, is sure to establish itself as a player in an area dominated with good eateries.