Imli Street, 167 – 169 Wardour St, London, W1F 8WR, www.imli.co.uk
The old Imli was, frankly, a bit rubbish. All the gear but no idea, unable to conceive of its very own concept. Said concept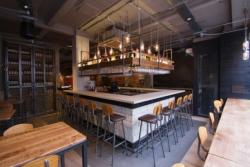 was'innovative Indian tapas', which in theory sounded great. In reality, this translated to clunky, starter-sized dishes difficult to share and an oddly-constructed menu impossible to get to grips with. The majority of the confused clientele ended up sticking with the tried-and-tested chicken-curry-naan-rice triumvirate. How innovative.
So I do not arrive with lofty aspirations for the Soho restaurant's quickie refit and rebrand as'Imli Street'. It all smacks a bit of clinging desperately to dynamic Dishoom's coat-tails, trying to get its own bite of the bacon naan roll. But actually, the decor is less'eccentric old Bombay' and more'Soho stripped' –the'industrial-chic scuffed-wood-and-metal' sort rather than the red-light type.
Although, like Roxanne in the song, or perhaps Simon Cowell on'The X factor', I do have to put on my own red light regarding the seats. I don't like to dine atop a stool at a height where I may as well stay standing. But maybe that's just me – the rest of those stools are filling up fast enough, and the bar's packed. It's now the main focus of Imli Street, and with good reason. The insipid, sickly tipples of yore have evolved into a smart little list featuring a handful of Indian-inspired decoctions.
Amongst them, 'Bombay/Soho' is a musky, lusty gin-pomegranate-ginger refresher, zesty with lime. A 'Twisted G&T'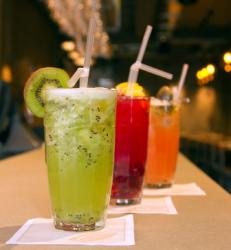 features saffron-infused gin, the divisive, inimitable flavour pronounced in the perfect measurement. Both pack a small, polite-but-definite punch, adding slightly to our sense of befuddlement and déjà vu when casting an eye over the new menu. There's still complete ambiguity over how much to order and in what manner, and even what dishes are. When it comes to Indian food, that bolshy Soho-Brit style of merely listing key ingredients doesn't fly, tempt, or help.
Guiding us through the'concept' and explaining the menu is where he comes in, our waiter tells us. But in many cases he – in fact, no-one – can actually tell us what we need to know, or confuses us. They're a very enthusiastic but very under-informed bunch; and there simply aren't enough of them to decode the entire menu to the entire place when Imli's even half full. Far better to just include more detail on the page, surely – that, or make a communal Rosetta Stone a statement feature.
And so to food. We've apparently ordered'a lot', but even with an only-slightly-peckish companion we make light work of the spread. We've tried to give it all a fair chance, bar the seafood section – the waiter's description of the masala crab having elicited an'oh, yuck!' from across the table. Shame, I rather fancied it. I do insist on the kaleji, though, and wish I'd been similarly dissuaded. Rather than the tangy, dry-fried chicken livers I'd expected, this is over-cooked pate in a thick brown gravy.
Anglo-Indian lamb curry'from the railways' is better – the nicely spicy gravy taking on that lovely lamb flavour from the tender chunks of meat. What makes it 'Anglo' is anyone's guess, although it does somewhat resemble a superior version of a British curryhouse rogan josh. The'cheese' naan we eat it with is almost false advertising; featuring a parsimonious scrape of said ingredient in a workaday bread, compared to Dishoom's gloriously gooey, ghee-brushed goodies.
If you're ascribing'Ceylon' as a descriptive adjective, I certainly expect flavour, and would gamble there might be fire. In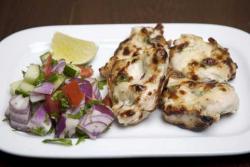 the Ceylon kothu, though, there is neither. The dish of'scrambled parathas' is a meek hash of broken bread fried up with pedestrian carrots and green beans – the use of thick, Punjabi-style parathas rather than their thinner crispier cousins a fatal error that's turned the whole lot into a plain, pudding-y bowl of banality.
Tandoori paneer is tasty – good-sized chunks in a tangy green marinade, the cheese slightly halloumi-like, with more tang and salt than most. There's a smidge of chaat masala and a few red onion slivers to add welcome twang, and a verdant mint-coriander chutney tarted up in the proper manner with green mango. There's more puddled under the fat bottom of a Punjabi samosa, along with sweet yogurt, and a jaunty pipette full of tamarind chutney attempts to inject a little interest to the classic samosa chaat .
The quirk doesn't quite deliver requisite interest though, and the generous filling of the samosa is bland. It's also suffering from that embarrassing taboo – the soggy bottom. A side of saag paneer is beautifully velvety and unchallenging. Pilau is oddly-spiced with nigella seed, and uses poor-quality rice with no inherent aroma or flavour. Yellow dal is okay. We eat it all and feel replete and ambivalent.
'Pink City', a sort of hard version of a faluda milkshake, saves me from diabolical chai ridiculously served with a jug of foamed milk. Puds are interesting, although there's no enlightenment regarding what'Lonavala chikki' on the sizzling walnut brownie might be for the uninitiated. In the middle of mango season the soup – aam ras – is confoundingly insipid. Hyderabadi bread and butter pudding is comforting and well-textured but needs both cardamom and oomph – sense a theme developing?
It's all a bit humdrum. More'hey ho' than'wahey'. The ideas are bold but execution vague. There are lots of dishes that are good, if unexceptional, a few that are wacky seemingly for the sake of it – naan pie? –, and some authentic, esoteric dishes that could be really exciting, helping introduce Soho-ites to under-represented, well-loved Indian creations like Mumbai's chilli cheese toast,  Northern tangdi kababs, or Indo-Chinese dumplings.
But you won't find converts by meekly pedalling pedestrian fodder in a neighbourhood saturated with strident, satisfying flavour, packed with people who want their jaws to drop from what they put between them. The intention's there and the stage set – Imli Street just needs to undergo a spot of assertiveness training and build a character as colourful and confident as the legendary local populus. After all, on the mean streets of Soho, more is more. And please, do something about that chai.